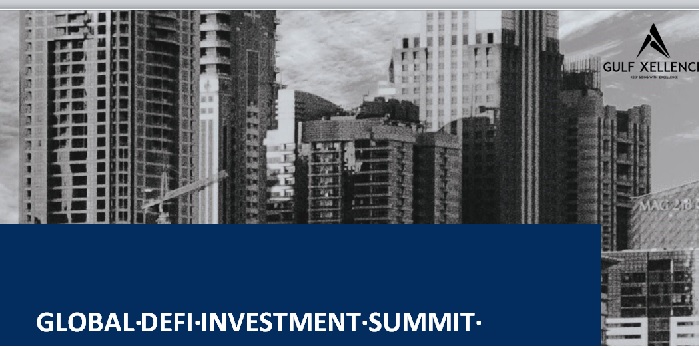 Gulf Excellence will be organizing The Global DeFI Investment Summit on the 2nd and 3rd of June in Dubai UAE at the Dusit Thani Hotel. The two day DeFi blockchain event will be attended by 200 delegates.
The goal of the event is to connect global investors and DeFI experts in this space including emerging start-ups with regional business and leaders from across key industry verticals.
There will be an exhibition of technological and business application innovations for the industry. The summit aims to bring awareness of DeFI ecosystem to international scene, connect blockchain & digital asset people from all over the world expects to bridge investors to the DEFI projects and vice versa by introducing innovation and gain local insights on the DEFI scene in each country presented by local experts. The Summit will focus on raising funds for DeFI projects and connecting DeFI entrepreneurs with investors.
Unique in its scale, positioning, and format global defi investment summit is designed exclusively for investors, start-ups, vcs, family offices, crypto fund managers, blockchain entrepreneurs, law firms, assets management firms, exchanges issuance platforms, entertainment & content and many more involved in crypto space with an active interest in blockchain & defi.
The Summit will be attended by high profile individuals such as Project Owners, COOs, CTOs, Lead Developers , Defi Investors, CFOs, Head of Tokenization, Fintech Head, Heads of Innovation, Heads of IT, Heads of Information, Heads of Engineering, Heads of IT Architecture, Heads of Emerging Technology, Heads of Development, Technical Advisors, Heads of Strategy, Heads of Compliance, Business Transformation, Marketing Manager, Fund Managers, Angel Investors, Private Family offices and many more interested in DeFi ecosystem.
The Summit will explore the continuing evolution of Defi by showcasing live projects, examining business use cases. An inspiring 2 days of content discussing DeFI, Blockchain, Decentralized Exchange, Banking Transformation, Staking reward, AI Arbitrage, Farming, Lending, DeFI Regulations, Financial Services and more. 25+ visionary speakers discuss how tech is impacting their businesses and provide insight and thought-provoking debate into what they see will redefine the industry in the future. The curated agenda features keynotes, case studies, panel discussions, spotlight talks, topic meetups, roundtables, and demos.
Sponsoring the event are companies such as DeFi Yield Protocol, USWAP, Wolves of wall street, MBDIX, Acria Network, Finlaw, CopsFinance, Impulseseven, and Gdefi finance.
The event will include an array of expert speakers such as Tim Draper Founding Partner at Draper Associates, Arshi Ayub Mohamed Zaveri CEO at Trust with Trade Group LLC & Senior Advisor Royal Family Offices, Jorge Sebastiao CEO & Executive Board Member at Global Blockchain Organization, Vladimir Nikitin Co-Founder at Space Swap, (Adv) Mohan International legal Advisor, Jen Buakaew – U.S. Blockchain Association, Sara Simeone CEO & Co-Founder at Digital Oracles, Aaron Tsai – Founder at Mas Capital, Dominik Ernst – CEO at Acria Network, Andreas Kartrud – CEO/ Co-founder at USWAP, Jesus Rodriguez – CEO & Co- founder at Intotheblock and Andrea Bonaceto – Partner at Eterna Capital
Among the key topics on discussion is DeFI is decentralized yet centralized in approach, DeFI Global – Who are the big players in DeFI now? What has been done, and what to expect?, DeFI Scalability: Taking DeFI ecosystem on another level , Decentralized Finance (DeFI) -The Future of Finance? and Integrating DeFI with real world Assests as well Defi as a new market and how to find a reliable DeFI project, How can investors benefit from DeFI Space? and finally Connecting Investors with DeFI