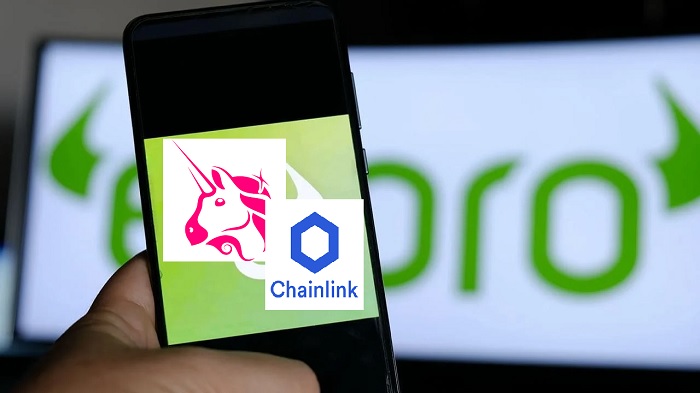 eToro, social investment network has added Chainlink (LINK) and Uniswap (UNI) to its crypto offering, bringing the total number of tokens that people can invest in on eToro to 18*. The move comes as eToro looks to bolster its crypto offering for both retail and professional clients in the coming months.
LINK is the native token of Chainlink, which was the first protocol to create a secure bridge between information within decentralised applications (d'apps) and information outside of the blockchain. Through its network of oracles it determines if information has been falsified or manipulated. It is currently the 12th biggest crypto with a market value of over $16 billion1.
UNI is a governance token for the Uniswap decentralized exchange built on the Ethereum blockchain. Uniswap facilitates automatic trading of any ERC token where there is liquidity between unknown counterparties, using smart contracts. Unlike centralised exchanges, it does not require an order book. Trading volume on the exchange reportedly hit over $30 billion in January 20212. UNI has a market cap of over $16 billion and is the 11th biggest cryptoasset according to CoinMarketCap.
Doron Rosenblum, VP of Business Solutions at eToro, said: "Now is the right time to be adding new cryptos to eToro. We have seen an explosion in retail investor appetite for the asset class and strong demand to invest across a greater range of tokens. Both LINK and UNI have interesting use cases and remind us that not all cryptos are designed to be currencies. Chainlink is an important project that aims to overlay internet data with information stored on the blockchain and Uniswap is a critical part of the crypto trading infrastructure.
"As with all investing, we urge investors to do their research. Just as each stock has a business case, each crypto has a whitepaper where people can find out more about its use case. eToro has been offering its customers access to crypto in a safe way for over 8 years. We will continue to find ways to open up this sector to more people, including adding more tokens later this year."