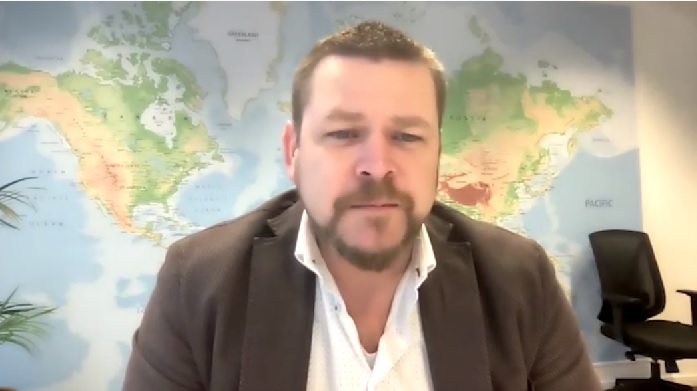 Settlemint low code Blockchain firm is expanding its presence in the UAE with the hiring of new employees in 2021
While 2020 was a tough year all around for Blockchain, with the exception of DeFi, due to frozen budgets, in Q4 we did see a slight recovery as is the start in 2021. SettleMint, one of the first entrants into the blockchain space with their low code blockchain solution has stayed committed to the region and to enhancing blockchain solutions globally with decentralized identity solutions and Data for Common Purpose with the World Economic Forum.
Matthew Van Niekerk, Founder and CEO of SettleMint the low code blockchain platform as a service company, told UNLOCK, "We are seeing good signs when it comes to enterprise blockchain implementations. In a recent study 14% of enterprises who were looking into blockchain use cases are now moving into production. Even though 86% have yet to decide, it is still better than what we had in 2020 with only 5% blockchain moving to production."
As such Van Niekerk believes that the Blockchain momentum will be sustained this year as the world slowly emerges from the economic fallout of the pandemic and continues to move out of the research phase into meaningful production in 2021. He adds, "I expect 25% of those researching blockchain will go into production by the end of 2021."
Van Niekerk believes that as blockchain proves itself and matures public chains will no longer be seen as a taboo in the enterprise space. As he explains, "We are seeing a shift with more and more customers interested in public technologies that in the past were considered as "no fly zones". Companies are more eager to explore public blockchain in 2021."
What is taking the most time according to Van Niekerk is the paradigm shift as companies learn to cooperate rather than compete, this means new businesses need to arise, new business models need to be conceived and when this new normal of cooperation starts to emerge things start to come around and take shape.
SettleMint since 2016 sought to make blockchain simpler utilizing its low code platform. Van Niekerk states, "We are seeing a significant shift in the market for low code solutions as more companies take digitization to heart especially after Covid and with remote working. Companies who did not invest in earnest and now need to rapidly transform, working remotely is now mainstream, and companies need to work in a decentralized way."
Low Code Blockchain
So what is low code blockchain? It is abstraction, abstracting away the mundane overhead engineering tasks so that developers can unleash their capabilities and focus on the business logic Van Niekerk explains, "Instead of developers spending time on learning and installing nodes, low code provides abstraction from the mundane overhead requirements to begin working with blockchain technology. So we enable developers to focus on delivering an incredible customer digital journey managed by the software they develop."
SettleMint today has implemented low code blockchain solutions in more than 45 organizations. SettleMint offers blockchain as a service solution that includes the SettleMint IDE, which simplifies the development and deployment of blockchain application and includes a library of smart contract templates.
SettleMint also offers the SettleMint Integration Studio, which enables integration and interoperability between blockchain components of a solution and legacy systems that they need to interface with to go into production. In short Van Niekerk clarifies, "We have four different layers in our solution: node provisioning and hosting on the cloud of choice of the customer (infrastructure layer), browser based Integrated Development Environment complete with a smart contract library, an integration studio and a systems administration environment for production use, which are unique to the SettleMint platform. The Integration Studio is a visual programming interface bridging between the on-chain and off-chain worlds and back. It even includes for instance an off the shelf Whatsapp messaging module to send messages to notify users of the dApp when events are happening on the network. The drag and drop interface for setting up such integration flows can be completed in as little as five minutes. Today leading banks, telecoms, energy companies and other organizations are using our solutions."
SettleMint were one of the first to use low code in blockchain and many others have followed including names such as SIMBAChain, yet SettleMint believes that being the first is as strong a validation of their success as anything else. And that the pie is still growing. Everest Group recently rated SettleMint among the top 13 trail blazers for low code platforms. SettleMint was the only low code blockchain solution identified in the list of rising stars in low code. In short, Van Niekerk and Co-Founder Roderik van der Veer had one thing in mind when starting SettleMint in 2016 and that vision remains the same today; to make building blockchain applications easy for every developer. "We strongly believe that blockchain is a technology that will change our society, revolutionize our global economy and disrupt industry for the better."
Self-Sovereign Identity
In 2016 SettleMint began working on identity management solutions. In 2020 SettleMint rolled out IdentiMint, their Self Sovereign Identity solution, as it joined the WEF (World Economic Forum) Global Innovators Community. SettleMint believes identity of people, organizations and things is a core component of blockchain and serves the advancement of freedom and democracy. IdentiMint as a self-sovereign identity solution allows individuals to have control and ownership of their identity. Van Niekerk tells UNLOCK, "We believe that users have the right to be in control of their data and to be able to port their credentials for example from one bank to another or one employer to another. Decentralized identity is needed and what is equally important is to work with regulators to provide verifiable identity management in the form of SSI (Self Sovereign Identity) as a massive enabler of decentralized applications. This will enable the growth of DeFi as it is still in Wild West territory. So for innovations like DeFi to become mainstream there will be a need for self-sovereign identity or digital identity in general."
The work SettleMint is doing with WEF is not only in the realm of Self Sovereign Identity but also in the WEF Data for Common Purposes Initiative. SettleMint adds, "Along with our core technology as BPaaS provider, we also work selectively on vertical applications of which IdentiMint is one, and another is DataBroker (databroker.global). DataBroker is a peer to peer data exchange platform and the internal capability that we bring to the fore in this second initiative with WEF. Under the Data for Common Purpose Initiative of WEF, several national level pilots are being organized where we offer our DataBroker platform as a technical solution."
The important thing about both initiatives is developing the policies and standards for pricing data, storing it as well as the common standards that can be applied to global exchanges. This according to SettleMint is an honor to support.
SettleMint in the GCC and MENA region
SettleMint is committed to the GCC and MENA region. This commitment is reflected in the growing team on the ground in the UAE. SettleMint explains, "Despite the tough year in 2020 and the slow recovery, we are expanding our team in the UAE and plan to hire up to four new employees in the year ahead. This is because we believe that to build meaningful partnerships; we have to have a local presence with local talent who understand the culture and businesses."
SettleMint believes that digitization will continue to grow in the region especially with the growth of the non-oil economy. SettleMint is involved in various projects in the region with more on the way.