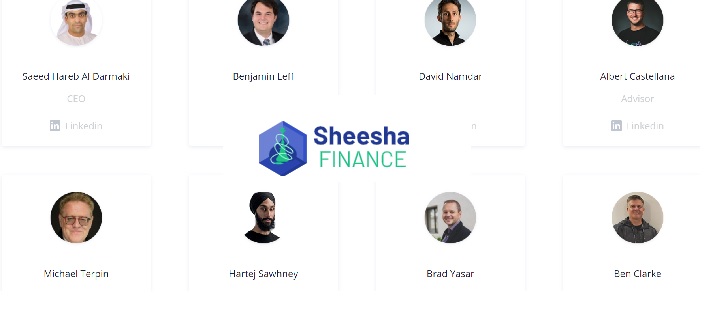 Sheesha Finance backed by UAE based Alphabit Digital Fund and Founded by established crypto investor Saeed Al Darmaki brings in advisors from NFT.Com, and CEO of Transform group
Sheesha Finance (https://sheesha.finance/), the first comprehensive DeFi solution for investors to easily access a variety of projects, backed by UAE Investment group Alphabit Digital Fund has announced its advisory board.
With a common goal of transparency and integrity in DeFi, industry leaders joining the board include founding partner of Galaxy Digital and CEO of NFT.com, David Namdar; CEO at StakeHound Albert Castellana; serial investor and industry pioneer, Hartej Sawney; crypto investor and CEO of Transform Group, Michael Terpin and founder and CEO of Beyond Enterprises, Brad Yasar.
In addition, Sheesha Finance's innovative token distribution mechanism, known as a Liquidity Generation Events (LGE) has raised over $2 million in 12 days, amassing significant interest from the DeFi community. Through this staking mechanism, participants gain access to a diversified portfolio of quality DeFi projects at a low minimum contribution (some as low as .00001 ETH) while earning additional rewards through their staked assets.
"We are thrilled that we have not only reached $2 million contributed in our LGE, but also have a lineup of industry heavyweights on our advisory board," said
Saeed Hareb Al Darmaki,
founder of Sheesha Finance. "With the strong support of the DeFi community and these strategic advisors onboard, we can provide exposure to reputable projects in the DeFi space while offering the best APY options for our ecosystem participants."
Darmaki's experience as Managing Director of UAE based Alphabit Digital Fund, a digital currency fund managing over $400 million in assets, and former Fixed Income and Treasury Specialist at the Abu Dhabi Investment Authority (ADIA), estimated to be managing $875 billion to date, has given him direct insight into the inaccessibility issues and lack of transparency in DeFi. Leveraging his knowledge and network, Darmaki bootstrapped Sheesha Finance with his team to create the first DeFi mutual fund: a platform that is unique, easy to participate in, community-driven and fair to all participants.
Following the conclusion of the LGEs, participants will receive their Liquidity Provision (LP) tokens. LP tokens will be automatically staked for participants to receive various DeFi project tokens for free and SHEESHA tokens will be rewarded each block. The community will also have exclusive access to NFTs (Non-Fungible Tokens) created by reputable digital artists, as rewards for staking their LP and SHEESHA tokens.The first NFT will be given to participants of the LGEs and has been created by Sheesha Finance's Art Ambassador, Vesa Kivinen, a world-renowned crypto and mixed-media artist.