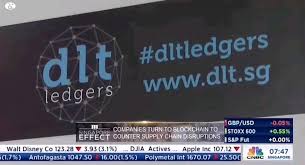 dltledgers is expanding into the MENA region and is migrating its blockchain platform to R3
Singapore Blockchain enabled fintech firm, dltledgers, has completed a Series A funding round led by Regis and Savoy Capital, Vittal, Walden International and various veteran industry leaders. The Series A funding round closed with a total of USD $7 million. The funding round comes off the back of a record-breaking, third year for dltledgers, with more than 200% YoY growth, as the need for digitisation across trade finance surges amidst the COVID-19 pandemic. dltledgers has commenced expanding its 70-strong team by 120% across Asia Pacific, ANZ, Japan India and Middle East. In 2020 dltledgers
expanded into the UAE
.
To support dltledgers' rapid growth, the company will migrate its blockchain-based solutions from Hyperledger Fabric to Corda, R3's flagship enterprise blockchain platform—enabling businesses in trade finance to streamline business operations, while reducing transaction and record-keeping costs. David Rutter, Founder and CEO of R3 said: "We are ecstatic that one of the world's fastest-growing trade digitisation platforms is moving to Corda. dltledgers was one of the first businesses globally to pass the proof-of-concept stage, launching a full production trade solution in 2018. They have also successfully proven how different blockchains can interoperate, and can create transactional efficiency in trade and supply chain finance.
Amit Ghosh, Head of APAC of R3 added: "dltledgers is spearheading digital innovation in the trade finance industry and we are confident that the team will benefit greatly from Corda. Corda has demonstrated its capabilities and use cases within Asia's trade finance ecosystem—providing leading trade finance and supply chain ISVs the benefits of blockchain for business—addressing issues of cost, expediency, efficiency, and profitability. We look forward to working very closely with #dltledgers, helping them scale in Asia and across the world's other trading hubs."
Samir Neji, Founder of #dltledgers said: "We are delighted that our investors see the value of #dltledgers and the transformative solutions we have developed. By migrating our blockchain platform to Corda, the first purpose-built blockchain for enterprise, our current and future clients will benefit from unparalleled security, transparency and performance that comes with Corda. In addition, our platform's ability to facilitate repeatable transactions enabled us to stand out globally and led to engagements with corporates like Shiseido, Wilmar, Mitsui, Wipro Unza, Vertiv, Schneider Electric—and more than 500 SMEs like Pine Energy Valency International, as well as over 45 banks including ANZ, DBS, Standard Chartered Bank, and Rabobank. The injection of funding will help #dltledgers to amplify its work on partnerships, standards, integration, as well as accelerating product development in several areas. One area is Cognitive Document Automation (CDA)—a unique combination of graphical processing, machine learning, and blockchain— further reducing the effort required to reconcile invoices, purchase orders, packing lists, and other trade documents." Neji believes CDA will enable customers to cross-match data in real-time in blockchain, right at the moment the documents are uploaded.
Singapore-based dltledgers leverages Corda to digitise interactions between enterprises—enabling multiple parties to execute physical goods transactions and collaborate in a secure, digital environment. Its platform complements existing technologies such as SWIFT, Bolero, essDOCS, SAP, and MS Sharepoint— while supporting the exchange of sensitive data and documents, without having to rely on physical paper documentations.
Farooq Siddiqi, CEO of dltledgers said: "We are ecstatic to work with R3 and implement Corda within our technology infrastructure. Corda aligns with our goals at #dltledgers—which is to build efficiency in inter- enterprise transactions, reduce friction in physical and financial flows, and to help customers transition to a future dominated by data. We will continue shifting our users from disparate processes, communications, and reliance on email and paper, to a single, private, digital network, which can expand as customers' requirements evolve. Through that network, users will be able to manage any type of repeatable transaction with external parties. Crucially, this will be a network our customers own, and can itself become an asset with real value."
dltledgers has played a pivotal role in the transformation of Asia Pacific's trade finance industry— contributing to Singapore's Trade Finance Registry, the world-first collaboration of 14 banks, led by DBS and Standard Chartered Bank, aiming to fight trade fraud. The company is also working closely with The International Chamber of Commerce, Trade Trust and various government agencies to enable interoperability between different technologies and support government initiatives such as the Parliament's
Bill giving legal certainty to the use of electronic documents.