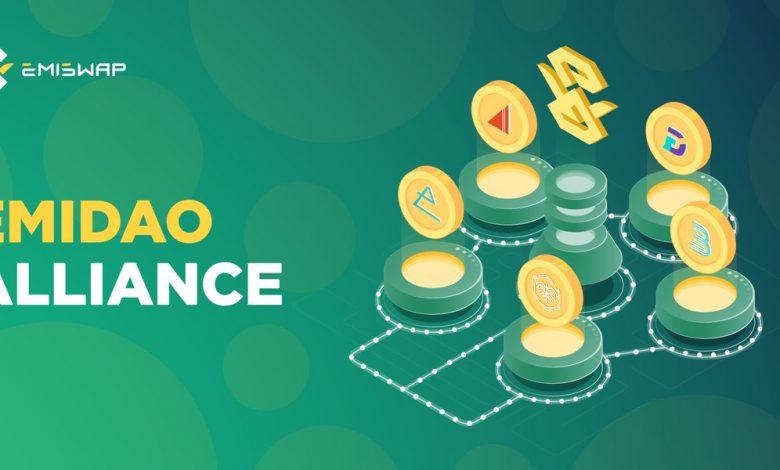 EmiSwap – the first project in the EmiDAO ecosystem provides its users with a governance ESW token for profit distribution and yield-maximizing NFT Magic Cards mechanics. ESW token lets holders take part in the decision-making process of product development and get a part of the EmiSwap's outcome proportionately to the amount of owned tokens. In fact, 100% of the project's profit is allocated between ESW holders – general users, DeFi projects, venture investors, and fintech companies that are interested in improvements of the DeFi market who build the EmiDAO Alliance.
As EmiSwap and EmiDAO Ecosystem grows it is also growing its partnerships. The list of EmiDAO alliance members already includes DigiFinex, Bitmart, Emirex, Alpha Sigma Capital, and Everest, and today we'd love to announce new participants: MahaDAO, IDCM and HollaEx. Every member who purchased an ESW token collectively owns the EmiSwap DEX: receives 0.05% of each exchange operation made on EmiSwap and can vote on the future development of the ecosystem. That means that the performance of the ecosystem, in general, is more important than the rate of the token for investors. The success of the ecosystem depends on each member of the EmiDAO Alliance. Every partner is important and plays a great role in the development of the market of Decentralized Finances.
EmiDAO has been collaborating with other DAOs and now have welcomed MahaDAO. MahaDAO is a community-powered, decentralized and autonomous organization consisting
of two tokens, MAHA and ARTH. MAHA is a governance and utility token that regulates the MahaDAO platform and ARTH — the world's first non-depreciating cryptocurrency…a
"valuecoin" as opposed to a "stablecoin". MahaDAO is on a mission to empower billions to preserve their purchasing power through ARTH. "We are excited to be working with the EmiDAO team to have various tokens in the MahaDAO ecosystem listed on the EmiDAO protocol and further earn NFT rewards as well." Steven Enamakel, Founder at MahaDAO
As for liquidity providers, IDCM and HollaEx have just signed to the EmiDAO Alliance. These exchanges will not only be listing the ESW token but also will provide liquidity to the EmiSwap exchange. IDCM is a globally well-known cryptocurrency trading platform as well as the originator and practitioner of the concept of alliance exchange.
"IDCM is pleased to be the partner of EmDAO Alliance to boost prospective development of the ecosystem. We are super excited to be a part of this game-changing move to help form the future of decentralized finance". Tolo, COO at IDCM.
HollaEx is an open source crypto exchange with shared liquidity and professional user interface that makes crypto trade and exchange accessible everywhere in the world.
"As DeFi has emerged as a new frontier of crypto-finance we at HollaEx are pleased to join the EmiDAO Alliance. We believe through this alliance we can best serve our growing
community and crypto industry at large. We see this alliance as a practical bridge between DeFi and our white-label crypto exchange solution which we believe will create new
opportunities for all parties involved". Adrian Pollard, CEO at HollaEx