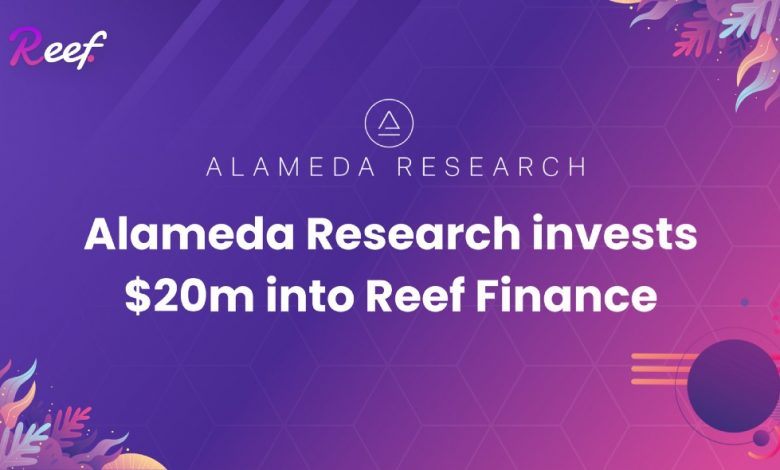 REEF Finance announced that Alameda Research made an investment of $20 Million into REEF Finance by purchasing REEF tokens. To that end, Alameda Research has become a significant stakeholder in the REEF Ecosystem. According to REEF Finance medium post, "This strategic cooperation will also open the doors for REEF Finance to engage with technical and strategic partners of Alameda Research in the near future."
REEF is the first cross-chain DeFi operating system built on Polkadot. With a seamless user interface, Reef offers its users a smart liquidity aggregator and yield engine that enables trading with access to liquidity from both CEXs and DEXs while offering smart lending, borrowing, staking, and mining through AI-driven personalized Reef Yield Engine.
Denko Mancheski, CEO of Reef, said: "As our company expands into the next stage of growth, I am delighted to welcome Alameda Research to the Reef Finance budding ecosystem. We're excited to incorporate this investment to further our trajectory and for the development of the Reef chain for DeFi applications of the future."
With this collaboration, Alameda Research doubles down on cross-chain liquidity within the crypto ecosystem. With this new partnership, Reef Finance will be able to implement more cross-chain integrations with Serum and Raydium on Solana. A bridge to Solana, as advised by Alameda, will make Reef Finance the first bridge between Polkadot and Solana. Beyond raising funding, Reef recently became the first project in the Polkadot ecosystem, and the 11th project globally, to be launched on the Binance Launchpool.
Alameda Research, which was founded in October 2017, is one of the leading research and trading firms involved in the blockchain and cryptocurrency space. The team at Alameda has a full-scale global operation with ability to trade on all major exchanges and markets. With decades of experience from Jane Street, Optiver, Susquehanna, Facebook, and Google, they've built some of the most sophisticated trading systems in the crypto world, including leading crypto derivatives exchange FTX.