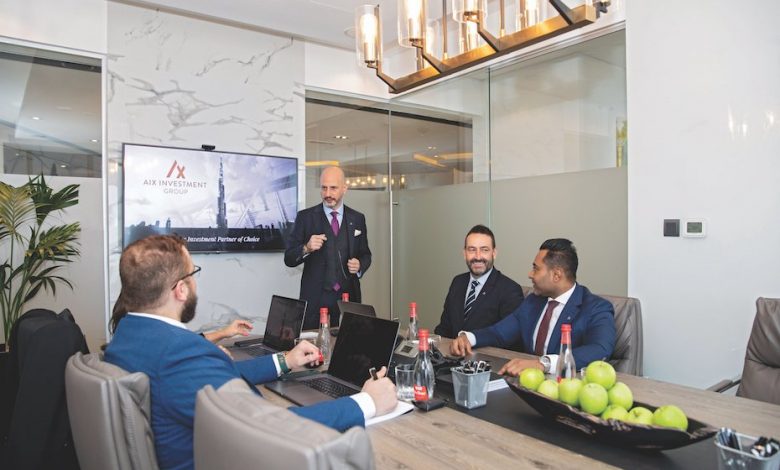 In a recent interview with Gulf Business AIX Investment Group Khalid El-Mikhi, senior financial advisor at AIX Investment Group and AIX Investment Group's board advisor Fadi Dabbagh discussed Bitcoin, digital currencies and blockchain in the investment landscape.
When discussing the recent rise of bitcoin, Khalid El-Mikhi, senior financial advisor at AIX Investment Group states, "This astronomical return of Bitcoin paved the way for the over 8,000 digital assets available in international capital markets today with a total market cap exceeding $1 trillion. Which assets will continue to grow and develop more real-life use cases beyond speculation is a matter of constant debate. But there is one thing that seems certain – blockchain, the underlying technology powering digital assets that is designed to provide a decentralised ledger allowing for irreversible peer-to-peer transactions and immutable storage of data will be the next major disruptive technology, and that is what we are most excited about,"
He adds, "Blockchain has the potential to revolutionise the way people interact with each other and the way the integrity of financial and transactional networks is maintained. What is even more exciting is the development of programmable blockchain networks capable of implementing smart contracts, an area which has led to significant growth and advancement in decentralised finance (DeFi) among many other applications. We do not see this trend reversing, and we anticipate the continued growth of blockchain technology powering the global economy and our day-to-day interactions."
In the UAE and GCC region, blockchain implementations are increasing alongside new regulations in digital currencies, wallets, and crypto assets as well as licensing of new crypto exchanges in Bahrain with CoinMENA and previously RAIN.
Khalid El-Mikhi, explains "We are now witnessing governments and major financial institutions developing their own blockchain networks for various uses such as the storage of personal information and legal documents, the tokenisation and transfer of assets through non-fungible tokens (NFTs), the development of transactions and payment systems which are decentralised and transparent, and even the storage of electronic proof of ownership – as is the case now with all title deeds issued by Dubai Land Department,"
Looking ahead, he stresses that they remain bullish on fintech, digital assets, DeFi and cloud computing. There is also greater interest for forex trading in the region.
While AIX Investment Group's board advisor Fadi Dabbagh adds, "There are many benefits to trading forex, which include high liquidity, trading volumes above $6 trillion daily, convenient trading hours (market is open 24/5), the ability to trade both directions – long and short; and the ability to trade on margin. We are in a region where currencies are pegged to the US dollar and we anticipate significant swings for USD in 2021 which will result in many opportunities for profit. The pandemic has also had a significantly adverse effect on global trade and as we continue to become accustomed to the new norm and the global economy continues to recover, the forex market will continue to grow and present opportunities for the creation of sustainable revenue streams,"
The company also expects the investment growth in startups, growth industries, sustainable businesses, and safe-haven assets to continue.
"We do not claim knowledge of the future, but our team of expert analysts, traders, and blockchain specialists will continue monitoring alpha-generating opportunities on behalf of our investors wherever they may arise," says Dabbagh.