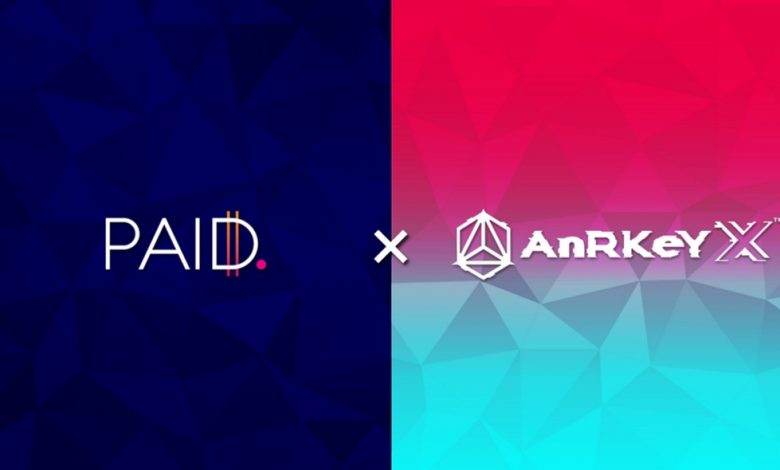 PAID Network has partnered with AnRKeyX, a decentralized Finance Gaming Platform Exchange that has created an innovative gaming industry called m$ports (money sports) by combining elements of DeFi, eSports, and Web 3.0 non-fungible tokens (NFTs) into one, on their gaming platform. AnRKeyX will use PAID Network's SMART Agreements in its decentralized ecosystem to streamline its back-office internal operations, empowering AnRKeyX's team to work more efficiently and focus their attention on scaling their m$ports' project to new heights.
JD Salbego, CEO & Founder of Anrkey X's, said, "We're excited to work together with PAID Network! Having a large decentralized team scattered all over the world can sometimes be a bit tricky. We feel confident Paid Network's DeFi powered SMART Agreements will streamline our back-office processes for payments and contracts, thereby enabling us to focus on what truly matters for AnRKey X- making kick-ass DeFi powered arcade games."
Blockchain and decentralization have significantly impacted many areas of all existing industries, and are now revolutionizing the gaming industry, with AnRKeyX as a pioneering forerunner. PAID Network is proud to be a part of this movement, and excited to provide its SMART Agreement protocol powered by DeFi features to our new partner, AnRKeyX.
PAID will accomplish this through its implementation of standardized language SMART Agreements, biometrics-validating their employees and contractor's user profiles, a built-in reputation scoring system recorded on blockchain; and its decentralized arbitration system for quick and reliable dispute resolution. PAID Network's goal is to bring in a true sense of trustless-ness and operational efficiency to business processes, in line with blockchain's governing ethos. in early January of 2021, UAE Based Alphabit Fund led a 2 million USD investment in PAID Network.
Kyle Chasse, CEO of PAID Network, added, "AnRKeyX like PAID Network, both set out to revolutionize their legacy industry counterparts; so it is very exciting to partner with AnRKeyX and provide them with our DeFi-powered business agreement's DApp to help them streamline their internal and decentralized operations. So they can dedicate themselves to doing what they do best: revolutionize the gaming industry."