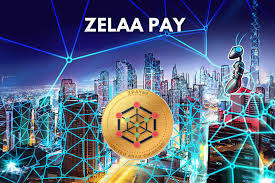 UAE Fintech crypto startup ZelaaPayAE has announced through Coinspeaker that it is in advanced stages of raising $25 million dollars in fresh round of investments to establish a blockchain ecosystem in the United Arab Emirates.
Now in advanced talks with numerous sources and high-level names in the domain of sovereign funds, private offices, Middle East centric and international-based venture capitalists, ZelaaPayAE is quickly closing in on its target of raising $25 million dollars for its first round of funding after to closure of which, the company will be positioned to dominate the blockchain scenario of the entire Gulf.
With $3 trillion worth of wealth circulating in the region, ZelaaPayAE's mission to "cryptonize the UAE" has caught the attention of investors because of the shear scale of the opportunity involved with decentralising the financial system and putting the region's 54 million people in control of their funds at all times.
The company is known for advancing crypto and blockchain infrastructures all over the Gulf through a vast ecosystem including point-of-sale terminals around UAE that promote the utility of $ZPAE for generating an inflow of revenues to the country, a decentralised real-estate platform that bridges liquidity and assets and finally a debit card that enables spending crypto-assets worldwide — all dots connect to an enhanced adoption in line with the upcoming relief in the framework of regulations coming into the region.
ZelaaPayAE's journey towards $25 million started with an invite-only event at Burj Khalifa in February of 2020 where it hosted key members of royal families, venture capital sharks, C-Level executives from the corporate world and many more — where key company officials unveiled the ZPAE token, now available on suitable investment apps and trading platforms.
ZelaaPay has partnered with several entities such as Tron Digibyte in the UAE and to also having active partnerships with stalwarts in the blockchain industry such as Pundi Labs, Klever Wallet, iVendPay, Swirge and many others—ZelaaPayAE is ushering in a new era of innovation and expansion at their company. ZelaapAY has also announced it would be building a DeFi platform as well and could potetially be building a crypto asset exchange
The company's crypto-centric ecosytem also includes the launch of ZelaaX, a intuitive and simple platform to enable people to swap their fiat currencies for crypto-assets in the Middle East with direct on-ramp technology support from over 14+ major banks — in order to allow the population to swiftly get skin in the evolutionary blockchain game and other products aimed at bringing customers, partners, nations, people, and the globe closer through reconnection are also planned in upcoming months.
ZelaaX will also make its debut in Indian markets in Q2FY21 along with going global in the same year. ZelaaPayAE leadership stated, "Our vision is to bring about the digital financial revolution in the Gulf. The passion we have for that mission is only matched by our intent to follow through on the transformational goals of our country's leaders."