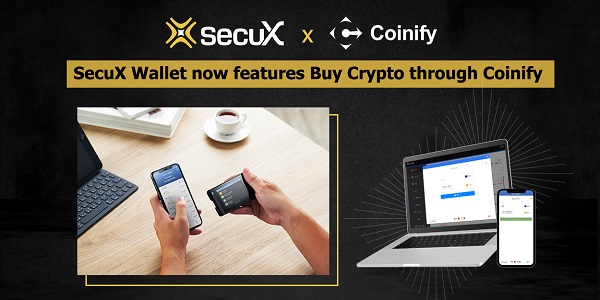 SecuX Technology Inc. is a Taiwan-based cryptocurrency hardware wallet provider with its own technical design, product manufacturing, international marketing and sales distribution to global online retail shops and some allied partners. Users of SecuX STONE Cryptocurrency Hardware Wallets can add the Buy Crypto feature on its Wallet Web App (My Wallet on SecuX's official website) and SecuX's Mobile App through Coinify.
crypto investors have started realizing that they have to store their crypto-assets in a Security Chip-embedded hardware wallet if they want to avoid any cyber or physical attack. However, in a normal situation, they have to buy the crypto coin/token and save it in their existing account on this exchange, then transact to their hardware wallet offline. The whole process takes longer and incurs higher transaction fees.
Now, SecuX Wallet users can just click one button to buy the crypto coins/tokens immediately on the SecuX Wallet Web App and SecuX Mobile App through Coinify to store the them offline. Coinify will charge the same for those users to buy the crypto coins/tokens either via the SecuX solution or a software wallet on Coinify.
Moreover, SecuX Wallet adds another useful feature in its latest MCU Firmware Version 2.9: Users may Send All the crypto coins or tokens out of the existing account; means to clear the balance and remain 0 in the SecuX wallet account.
Meanwhile, having been awarded the "Best Cross-platform Hardware Wallet in 2019" by CV Magazine and "Top 3 Best Crypto Hardware Wallet 2020" by Buzz Prime, SecuX shall make a big stride to expand its business 2021. Strategic Partners such as Online Resellers, Wholesalers, and Customized Project Owners are all required by SecuX for a long-term and win-win alliance partnership.