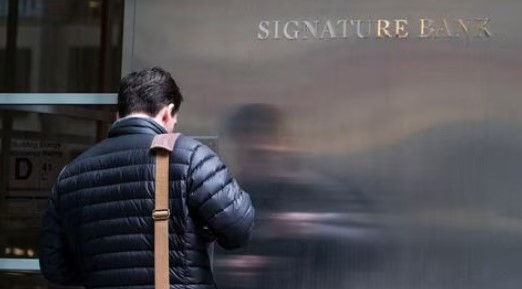 On Sunday, state regulators closed down New York-based Signature Bank, which was the third-largest banking failure in US history.
This occurred just two days after the collapse of Silicon Valley Bank, leaving billions of dollars in deposits stranded.
The Federal Deposit Insurance Corporation (FDIC) assumed control of Signature, which had $110.36 billion in assets and $88.59 in deposits at the end of last year.
The US Treasury Department and other bank regulators have issued a joint statement stating that all depositors of Signature Bank and Silicon Valley Bank will be compensated and that no losses will be borne by taxpayers.
A comment request for Signature Bank from its representatives has not been answered yet, according to Reuters.
It is worth noting that Signature Bank had a strong relationship with former President Donald Trump and his family, but cut ties with them in 2021 after urging Trump to resign following the deadly Jan. 6 riots on Capitol Hill.
New York Governor Kathy Hochul issued a statement expressing hope that the U.S. government's actions on Sunday would restore confidence in the stability of the banking system.
Hochul emphasized that many depositors at both failed banks were small businesses, which are crucial to New York's robust economy, particularly in the innovation sector.
Officials clarified that shareholders and certain unsecured debtholders of Signature Bank and Silicon Valley Bank would not be protected, and senior management of both banks have been removed.
Any losses to the FDIC's Deposit Insurance Fund, which supports uninsured depositors, will be recovered by a special assessment on banks, as required by law.