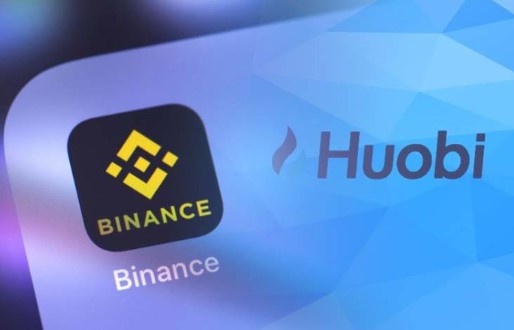 The security teams at crypto exchanges Binance and Huobi collaborated to stop and retrieve 121 Bitcoin (BTC) worth $20,803 from the individuals responsible for the Harmony bridge exploit.
Binance's CEO, CZ, stated in a tweet that the hackers attempted to move their stolen funds through the Huobi platform. Once Binance identified this, they reached out to Huobi and helped them freeze and recover the digital assets that the hackers had deposited.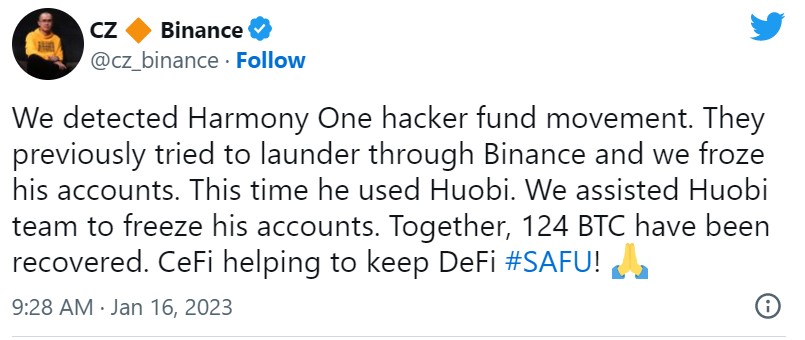 Zhao reported that Binance and Huobi were able to regain control of 121 BTC, which had an estimated value of approximately $2.5 million at the time of the announcement.
Prior to being detected and frozen by the exchanges, ZachXBT, a blockchain-based detective, pointed out that the individuals behind the exploit had transferred 41,000 Ether (ETH) worth around $64 million over the course of the weekend.
The cryptocurrency investigator reported that the hackers, after moving the funds, combined and deposited the digital assets on three different cryptocurrency exchanges. However, the blockchain-based detective did not reveal the identities of the exchanges utilized by the exploiters.
On June 24, 2022, the Harmony project discovered an exploit and informed that $100 million in funds were stolen. The hack brought attention to concerns previously raised by members of the community regarding some of the multi-sig wallets securing the Horizon bridge.
On June 30, the Lazarus Group, a well-known North Korean hacking group was identified as a potential perpetrator of the $100 million Harmony hack. Blockchain security firm Elliptic observed that the method used in the hack was similar to previous attacks conducted by the Lazarus Group.
It is important to note that the Horizon bridge hack is one of the major exploits and hacks of 2022. Experts think that Lazarus Group targeted Harmony's employee login credentials to gain access to the system and then used money laundering programs to move the stolen funds.