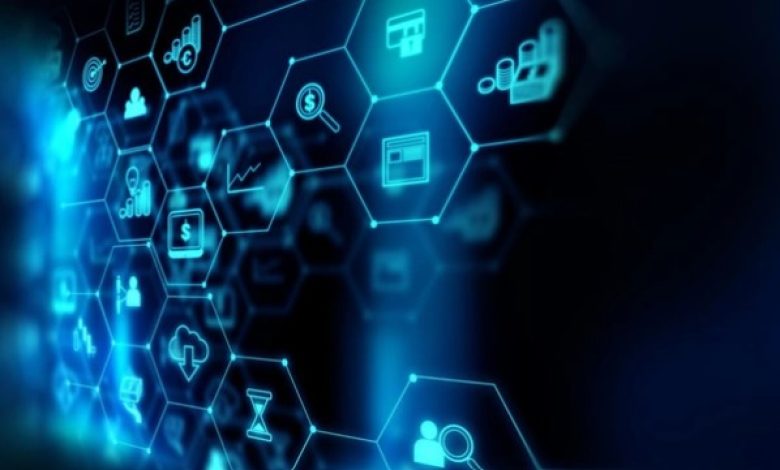 On December 9th, the European Parliament (EP) and the European Council (EC) reached an agreement on a new law, known as the "New Battery Law," which aims to establish environmental requirements for batteries throughout their entire lifespan.
This law, referred to as the Battery Act, seeks to create a circular economy by evaluating all stages of battery production, from design to disposal.
Achille Variati, the EP's rapporteur, expressed approval for the draft law, stating that it would be beneficial for both: the economy and the environment. Variati also mentioned that batteries are becoming more efficient and easier to handle.
"Our main goal is to create a robust EU recycling sector for mainly lithium and a strong industrial sector. It will be important for the energy transition and autonomy of Europe in the coming years. These measures could even become a global benchmark for the world battery market," the rapporteur added.
In fact, on December 29th, a researcher at VeChain named @eisenreich tweeted an image of an editorial from VeChain that discussed key points of an upcoming battery bill. The proposal stated that electric vehicle (EV) batteries, industrial rechargeable batteries, and LMT batteries with a capacity greater than 2kWh must be labeled with a carbon footprint declaration.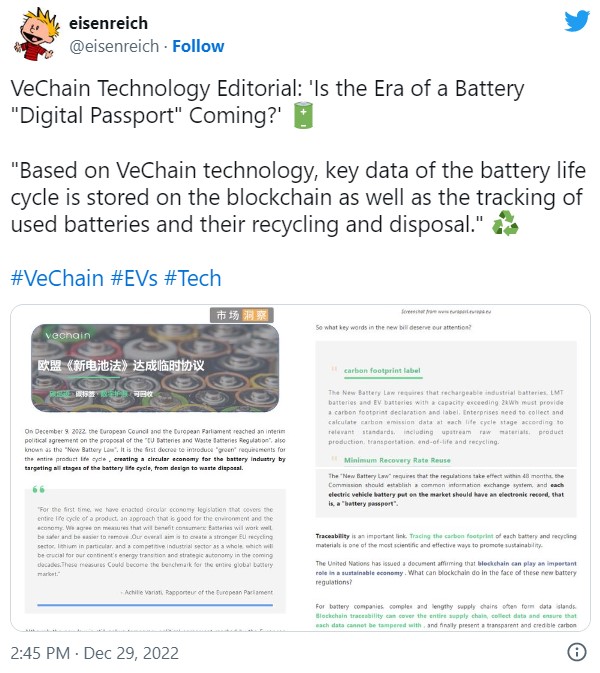 The new battery bill includes provisions for a required "minimum recovery rate for reuse" for various types of batteries, including those used in light vehicles and portable devices.
The bill also mandates that battery manufacturers must reuse a certain amount of lead (85%), nickel (6%), cobalt (16%), and lithium (6%) from consumer and manufacturing waste in the production of new batteries, in order to promote the return of recyclable materials to the economy.
Additionally, the bill calls for the implementation of labels, QR codes, and digital battery passports to provide information about batteries, such as their recyclable content, performance, capacity, and chemical composition.
These digital battery passports are intended to provide consumers with more transparency and help to ensure the responsible use and disposal of batteries.
The VET blockchain presents a major opportunity
According to the new law, the regulation will take effect within the next 48 months. In addition, all electric vehicle batteries that are sold must have a digital record and battery passport. This 'passport' will enable manufacturers and authorities to track the carbon footprint of these batteries.
There is no doubt that this bill presents a good opportunity for VeChain, as battery manufacturers can store their battery's digital passport on the VET blockchain. To comply with the new requirements, these manufacturers will need to use blockchain technology to track their carbon footprint.
The EU is reportedly planning to set a new carbon footprint threshold for battery manufacturers by 2027. An editorial from VeChain explained, "By using VeChain technology, manufacturers can store key data for a battery's life cycle on the blockchain. In addition, the blockchain will enable the tracking, recycling and disposal of used batteries."
It is important to note that the new battery law is a provisional agreement between the European Parliament (EP) and the European Council (EC). So, in order for the law to be formally enacted, both parties must give their approval.
It is clear that the content of the bill has been finalized, but full implementation is still pending. Both the EP and EC will need to come to a final agreement in order for the law to be fully implemented.
With this in mind, one can say that the rise of this new law and the need to apply blockchain technology for it to succeed is a major eye-opener that can lead to amazing new projects and ideas. For instance, creating an actual passport that can immensely facilitate the check-in process and store all info on the blockchain is crucial at this point, for not only will it be easier to use, but definitely more safe and secure.
There is no doubt that several companies and startups are working on the advancement of human digital identity using Blockchain technology. However, there is still a long way to go, and one can only hope that someday, in the near future, human beings will have a different passport in hand and travel processes will be made easier.