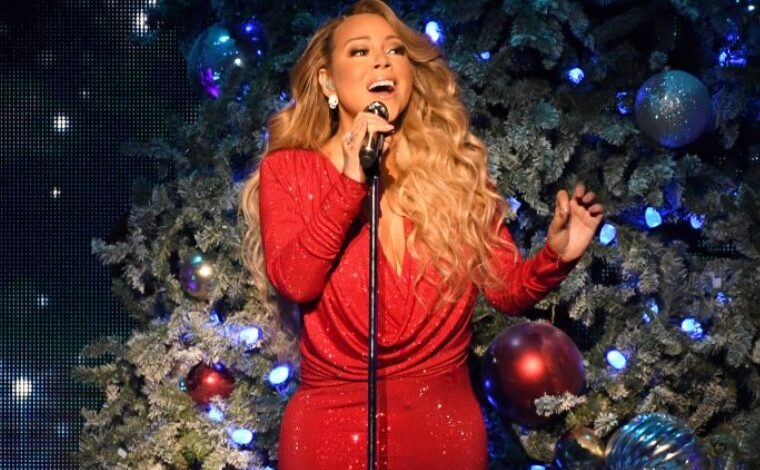 Mariah Carey is set to perform a series of virtual concerts on Roblox's Livetopia platform this month, with her project dubbed 'Mariah Carey's Winter Wonderland'.
"Christmas is my absolute favorite time of the year! This year, I wanted to do something different to ring in the holiday season," Carey, 52, said in a press release. "My kids and I live for Roblox, and we couldn't be more excited to be creating this festive metaverse experience for everyone!"
The virtual shows will take place over four consecutive nights, from December 21-24, each starting at 7pm ET (12am GMT). She'll perform an array of old and new hits across the concerts, wrapping up with her holiday classic 'All I Want For Christmas Is You' as the grand finale.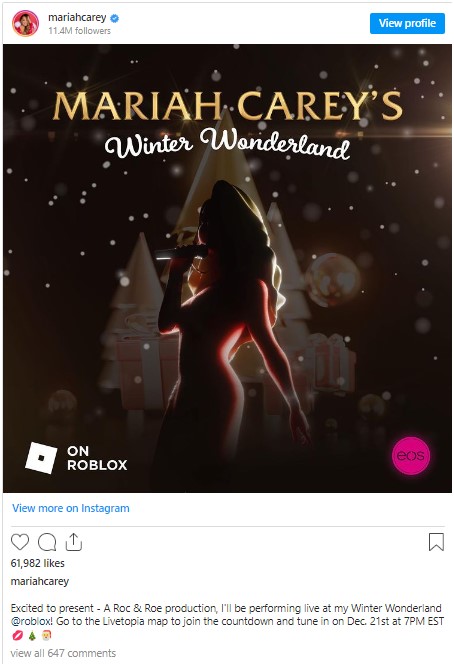 Livetopia is a mega-popular role-playing experience on Roblox, with billions of visits to date, focused on exploring, creating, and spending time with friends in the digital world. The partnership was brought together by metaverse agency and development studio Relentlo, which specializes in helping brands and talent work together in these new and emerging spaces.
The presenting sponsor of this event is eos, the beloved Gen Z beauty brand known for its lip balms, and they are extremely excited to have Mariah be a part of their first metaverse activation.
In addition to the musical entertainment, Carey's 'Winter Wonderland' experience will also feature a Christmas-themed treasure hunt designed by her twin boys, as well as item drops and more.
The star's 'All I Want For Christmas Is You' has become a signature holiday song since its release in 1994. Last December, the track topped the Billboard Hot 100 for the third year in a row, making it the first song in history to top the charts three separate times.
Prior to that, the singer had filed to immortalize her synonymity with the festive holiday by attempting to trademark the term "Queen of Christmas", as well as "QOC", "Princess of Christmas" and "Christmas Princess". The move attracted criticism from holiday singers Darlene Love and Elizabeth Chan, and Carey was denied by the US Patent and Trademark Office last month.
It is important to point out that celebrities taking part in the Metaverse is a huge step forward, for not only are they seen as artists, but as role models too. This being said, one can imagine that the number of users who are tapping into the virtual world will definitely increase with celebrities advocating for its adoption and use.
In other words, whether it is good or bad, sometimes what celebrities do can truly influence their fans and drive them to act the same. So, do you think artists will be taken advantage of for this purpose? Let's wait and see!