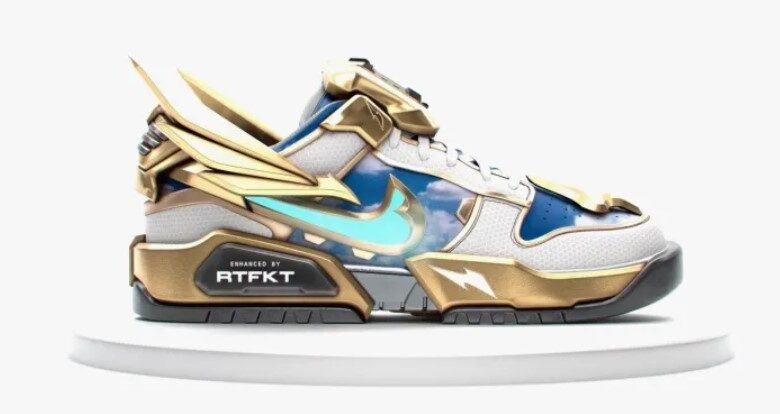 Nike's latest venture is a metaverse play called '.Swoosh', a Web3-enabled platform where people will be able to buy its virtual products.
Swoosh exists on a domain named '.nike' and will be an experimental digital space for registered members. It's currently in beta, and registration to join opens on November 18.
The platform will initially focus on community building and present members with "challenges" to get a sense of what they want to see. The brand's first virtual collection—of footwear, apparel, and accessories—will launch on Swoosh in January 2023, shaped through activities such as interactive voting. Members will subsequently be able to collect and trade these digital-only products; the platform will use cash (USD), not cryptocurrency, though all transactions will be recorded on the Polygon chain.
Nike already has a metaverse space on Roblox—Nikeland—where users can buy and wear virtual goods using not cash or crypto but in-game currency. Launched in November 2021, the branded virtual world has seen more than 26 million visitors, according to Roblox. Again, the company does not seem to know how Swoosh will interact with Nikeland. "We haven't contemplated exactly what that looks like."
Although there will be no avatars at the time of launch, the brand's stated ambition is for the virtual products released on Swoosh to become wearable on and off the platform. "I can imagine the avatars on RTFKT being able to wear our wearables, as well as avatars in games you already play," says Ron Faris, VP/GM of Nike Virtual Studios, the brand's arm launched in early 2022 to focus on the virtual sphere.
By launching Swoosh, Nike may be creating its own virtual world that won't need to rely on other platforms. Nikeland could be subsumed into Swoosh, but interoperability will surely have to be front and center for that to succeed. This is the very reason MSquared, Improbable's division that builds metaverses for third parties, requires clients to ensure all of its virtual spaces be interoperable, according to Knews.media.
It is important to note that although Nike acquired RTFKT last year and made $3.1 million selling 600 pairs of "Cryptokicks" NFT sneakers in April 2022, it is sidestepping currently tarnished NFTs for the Swoosh launch. "We're calling these 'Nike virtual creations' because we think that it has broader implications than NFTs," Faris says. The NFT bubble may have burst, at least for now, but it's not yet clear whether the broader market for virtual goods will be as volatile.
Perhaps as a way to avoid this, Nike is planning to attach services and utilities to its virtual products. "When we look at a virtual shoe, we don't just see the shoe," says Faris. "This is a shoe that one day could unlock a preorder for a physical product, or another day it unlocks access to a secret chat room with our designers, helping to cocreate. We're learning that buying a virtual product isn't the end of a purchase journey, it's the beginning of it."
Nike is not just betting on the future of virtual goods, but on successfully selling them in its own new world, rather than on established and well-visited platforms owned by Roblox and others. Industry analyst Benedict Evans thinks that such a move, even from a brand like Nike, carries significant risk. "The market for virtual products that exist outside of specific use cases like Roblox or Fortnite is still extremely experimental," he says.
Nike isn't the first high-end apparel brand to take on virtual products. Gucci has been somewhat of a pioneer: In 2021, the brand launched digital-only sneakers Gucci Virtual 25, which can be worn on VRChat and Roblox, and created Gucci Town on Roblox, an immersive space in which users can buy other virtual Gucci apparel. The bet has seemingly paid off: A digital-only Gucci bag on Roblox sold for more than the price of its physical counterpart (in in-game currency, of course). Vault, Gucci's online concept store which hosts various crytpo and NFT projects, was introduced to The Sandbox in October 2022, solidifying the brand's relationship with the metaverse.
Givenchy, Ralph Lauren, and Tommy Hilfiger also have spaces on Roblox where digital merchandise is sold. And in June 2022, Balenciaga, Thom Browne, and Prada partnered with Meta to create virtual products for sale on the platform's new Avatars Store. According to Bloomberg, the metaverse market may reach $783.3 billion in 2024, up from $478.7 billion in 2020—and virtual products no doubt play a role in this projection.