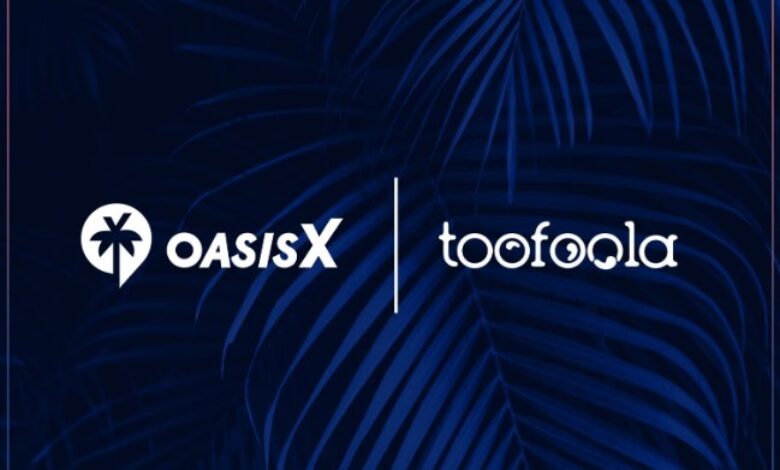 OasisX, a curated NFT marketplace & creator studio serving the internet of assets, has announced its partnership with Toofoola, a platform for virtual healthcare and well-being.
Najib Khanafer, Co-founder of OasisX, told UNLOCK Blockchain, "We are very excited to partner with Toofoola, a platform that truly serves the community. Such partnerships reinforce our CSR strategy".
Toofoola is a virtual healthcare platform for Arabic-speaking communities with a special focus on women and girls. It supports them through written and audio content in addition to one-on-one consultation through a roaster of paramedic healthcare professionals.
As part of its social impact efforts, and through its research and work, Toofoola realized that period poverty is an undermined topic in the Arab region. In fact, period poverty doesn't only necessarily mean lack of access to period pads but also poverty in knowledge around this topic that taps into the mental and physical health of girls and women.
Juliette Zeidan, midwife and Founder of Toofoola.com, said, "We are very thankful and proud to partner with OasisX on this campaign. We felt that we share the same values and truly believe in the positive impact of art and technology, specifically blockchain. Hence, the partnership was a natural outcome."
Zeidan added, "Toofoola's menstrual health campaign will aim to educate and empower adolescent girls to take control of their bodies by breaking the taboo around the topic."
Why NFTs? Why blockchain?

Thanks to art being an important medium to shed light on social causes, combining it with NFT brings forward an indisputable proof of authenticated ownership of the work, and provides transparency on how the proceeds of the art sales are being distributed, specifically when it's being used to support charities and initiatives on the ground tackling period poverty.
Moreover, using NFT and blockchain helps art to expose the topic across borders and allows anyone to buy it.
It democratizes the process of supporting social causes through art by transforming it from being solely restricted to small closed circles of patrons to becoming accessible to any member of the community.
Khanafer added, "NFTs for a cause have been proven successful globally, including health and wellness. Thats why we decided to unlock this special activation with Toofola. The technology creates a new era of collectability and philanthropy. We believe in a future where NFTs will become a pillar for organizations to achieve their fundraising goals, create a social impact and raise awareness."