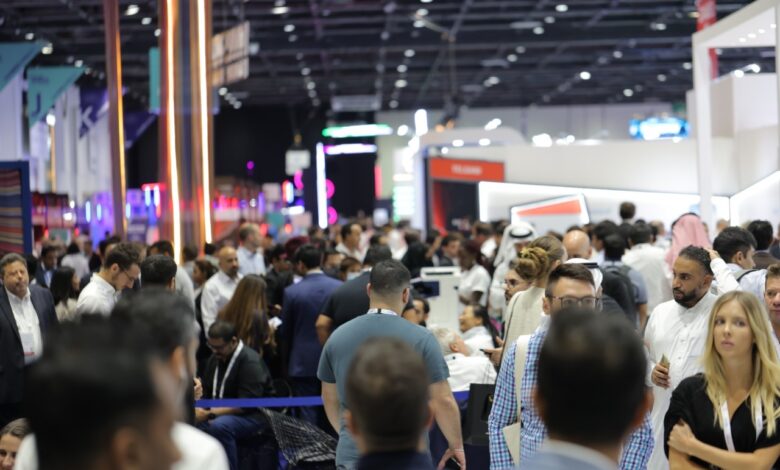 His Excellency Omar Sultan Al Olama, Minister of State for Artificial Intelligence, Digital Economy and Remote Work Applications, and Chairman of Dubai Chamber of Digital Economy stated that the UAE and Dubai have long consolidated its status as the international hub to set-up and attract unicorn and leading digital companies from across the globe, which reflects the UAE leadership in creating the best ecosystem for entrepreneurs, tech-preneurs, as well as start-ups to flourish and expand their impact on the world of Ai and digital economy.
This came at the GITEX GLOBAL investors briefing, announcing the extending of the acclaimed start-up brand, North Star, into Expand North Star to be held from 10-12 May 2023 at the Dubai World Trade Centre to accommodate the accelerating growth of the powerhouse tech event brand, following the sell-out success of its 2022 edition this October.
Expand North Star, was jointly announced by His Excellency Omar Sultan Al Olama; and His Excellency Helal Saeed Al Marri, Director General of Dubai's Department of Economy and Tourism, and Dubai World Trade Centre Authority, as part of North Star Dubai, the world's largest start-up show, alongside its current strategic partner Dubai Chamber of Digital Economy.
H.E. Omar Al Olama added that Expand North Star 2023 will be a key platform for the Dubai Chamber of Digital Economy to attract companies, while showcasing Dubai and the UAE's competitive advantages and growth opportunities in a thriving digital economy, stating; "the event will offer an excellent opportunity for entrepreneurs, innovators, and digital business leaders to connect with potential venture capital investors from around the world, while international unicorn founders can share their inspiring success stories."
H.E. further noted that Expand North Star will act as a strategic catalyst to expand the future of digital economy, reflecting what GITEX GLOBAL is to the global technology industry. This is the leading event of its kind, bringing together the region's leading digital business and entrepreneurial ecosystems to connect, collaborate and foster business partnerships that drive international growth."
His Excellency Helal Saeed Al Marri, added: "As VC's look to future proof their investments against the backdrop of global economic challenges, opportunities for start-ups to raise funds has never looked better.  In partnering with the Dubai Chamber of Digital Economy, we will further augment the achievements and success of Expand North Star, leveraging synergies and networks with a common mission to broaden the global start-up ecosystem, build relationships, and create more opportunities.
"As the new name implies, Expand North Star will ramp up the start-up entrepreneurship momentum, transcending geographic industries and intellectual boundaries as it looks to connect government partners, investors, and corporate accelerators with innovators and tech stars from every continent."
A new creative format to extend engagements with key stakeholders in tech
Hosted by Dubai Chamber of Digital Economy and organized by Dubai World Trade Centre, Expand North Star shall present a new creative format to extend its engagements with venture capitalists, unicorns, scale-ups, start-ups, and key stakeholders in the tech ecosystem; which will advance the continued expansion of GITEX GLOBAL and amplify its achievements.
The new concept start-up show arrives as the UAE enters a new phase of economic development catalysed by new digital generational technologies and innovation. The digital economy is expected to be a major driver of the UAE's sustainable economic growth, contributing nearly 20 percent to the country's GDP over the next ten years.
New policies and initiatives are being put in place, promoting smart infrastructure that enhance the digital readiness of the UAE government to ensure business continuity.
From IoT, AI, blockchain, metaverse, or Web 3.0, the UAE has been at the forefront of adopting the latest technologies, which has benefited all sectors of the economy and society.
North Star Dubai soars to new heights in UAE's thriving start-up ecosystem
Conceptualised seven years ago as GITEX Future Stars with a modest 200 participating start-ups, the rebranded North Star Dubai in 2022 has since developed a sterling global start-up and scale-up following, this year hosting more than 1,000 start-ups from 63 countries, having added an additional sold-out hall with 65 percent year-on-year growth, and hosting the highest number of investors and unicorns globally.
There are more than 1,400 start-ups in the UAE with an estimated value of $24 billion, and a further 90 investment funds in the digital sector along with 12 business incubators.  UAE companies also held the lion's share of a record-breaking $2.6 billion in start-up funding across the Middle East and North Africa in 2021, achievements that underscore Expand North Star's attractiveness to international start-ups to leverage the UAE's vibrant network and expand their ambitions into wider markets.
Expand North Star from 10-12 May 2023 will present more space and flexibility to engage and develop the international community with an even more creative and impactful programme.  The showpiece event will be co-located with the inaugural GITEX Impact and Future Urbanism Summit & Expo, the region's dedicated dual platform for tech-centred sustainability investments, and public-private partnerships.