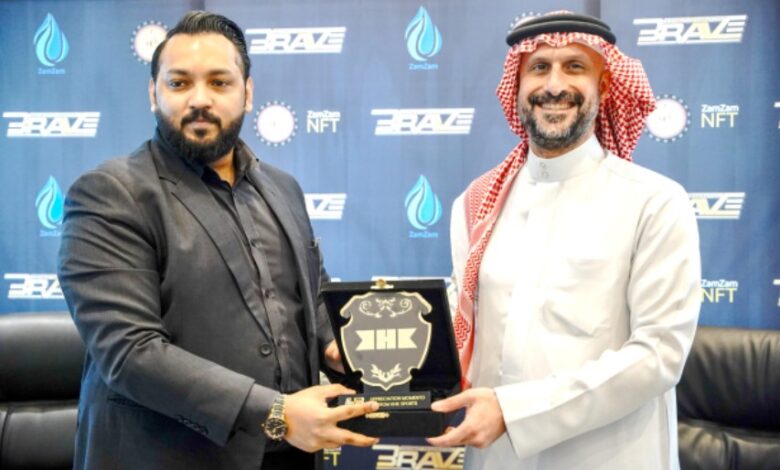 A newly-minted Bahraini home-grown collaboration expects to capture $20 million in value within the first year, tapping into the rising interest in NFTs.
BRAVE Combat Federation (BRAVE CF), the fastest-growing mixed martial arts (MMA) organization in the world, and Zamzam, the developer of the first Sharia-compliant token in the world, have come together in what the promoters describe as a 'sweat meets tech' venture.
The two will be launching the Middle East's first sports NFT collection in Bahrain next month during a major tournament, it has emerged.
While the details of the inaugural token remain under wraps, the promoters said it will be sold via auction.
According to BRAVE CF President Mohammed Shahid, the partnership is part of larger plan to use cutting-edge technology to drive better engagement with fans of the popular sport and make it more accessible.
Speaking during an event held yesterday to announce the venture, Mr. Shahid said, "We strive to always be at the forefront of innovation and best practices in all fields, especially when it comes to the technological forefront between sports and tech industry. It's our aim to remain at the front lines on a regional and global level."
He added, "In collaboration with our new partners Zamzam we strive to enter the world of NFT in a major way, embracing their innovative style of delivery with our global best practices. As we leverage our individual strengths, we believe our global growth will be exponential."
Last month, BRAVE CF became the most-travelled MMA brand in the world, hosting 61 events across 28 countries in less than six years.
Describing the collaboration as 'technological statement and a revolution', Zamzam Token Company Founder and Chief Executive Hamed Fakhro said that he believes NFTs are much more than images and collectible digital art.
"We believe that the technology of NFTs opens the doorway to celebrate humanity. A way to connect ideas with reality in an exciting way. Which is why we decided to launch our NFT project by rewarding the pioneers in sport and technology," he added.
"It's an absolute honour and pleasure to partner with such a leader in the sports international arena, and BRAVE CF has demonstrated that explosive global growth is possible when you have a target and solid mindset."
Zamzam minted the first Sharia-compliant NFT with a 40-year-old dagger NFT known as 'AlSultan' in May 2022, which traces back its origin as a gift from the late Sultan Qaboos, the former ruler of Oman.
The 24 carat dagger NFT began auction at $1m.
Mr. Fakhro further said that the partnership was in line with the vision of Bahrain's leadership to remain a regional leader in blockchain and technology.
According to him, the NFT market is currently worth $3 billion and is estimated to reach $13.6bn by 2027.
"We hope to retain a nice slice of that growing market, and we estimate the value at $20m in the first year. This partnership will multiply our potential as an organization," he said.