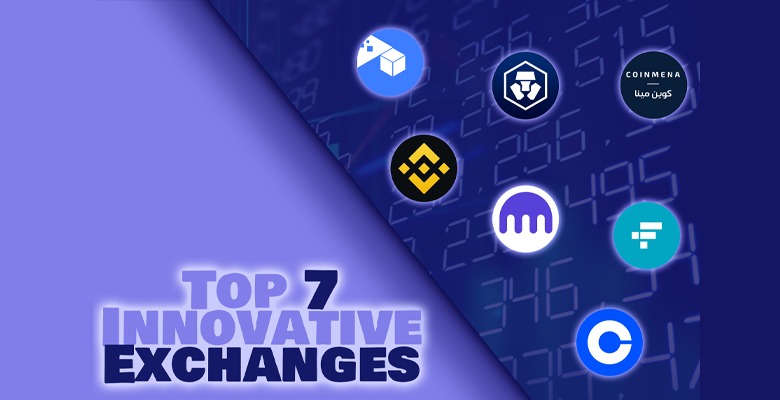 Functioning similarly to online brokerage platforms, crypto exchanges provide one with the tools they need to buy and sell digital currencies and tokens like Bitcoin, Ethereum, Dogecoin and many more.
However, as the blockchain and crypto space expands by the day, the amount of crypto exchanges has increased drastically, making it harder for investors to know where to go and who to trust. Therefore, when choosing a cryptocurrency exchange, it is crucial to look at factors such as supported assets, fees, payment methods, and security. And to help you find the one that suits you, we have put together a list of the best cryptocurrency exchanges.
1- Binance- Most popular exchange and the best for low fees
2- Coinbase- Best for newbies in the space
3- DIFX- Most innovative exchange
4- Kraken- Best for experienced traders
5- Crypto.com- Best for high interest rates
6- FTX- Feature-rich exchange
7- CoinMENA- Exchange in the region, for the region
1- Binance- Most popular exchange and the best for low fees
Being the world's largest cryptocurrency exchange by trading volume, users and number of pairs, Binance, in addition to its United States partner, Binance.US, have many special features. However, its greatest and most important asset is its extremely competitive structure that amounts to 0.1%, and keeps getting lower as the user's trading volume increases.
Due to some regulations, Binance.US is not available in Hawaii, New York, Texas and Vermont. Nevertheless, in the States where it is, it offers discounts for one of the world's most popular utility tokens, Build and Build (BNB), to buy and sell other coins.
It should be noted that Binance users not only enjoy 120 cryptocurrencies, all of which are purchasable in USD, but also its broad market dashboards, margin trading, and variety of order types, including limit orders, market orders, and stop limit orders.
In fact, Binance, which is licensed in Dubai and Abu Dhabi, started as a crypto exchange hosting a relatively large selection of coins. Offering access to crypto is one of their key features; they have a selection process that is often viewed as overly strict, especially by project communities that haven't been listed yet.
Out of hundreds of thousands of tokens created on the blockchains, they have currently listed a very limited amount of coins/tokens. And thanks to their rigorous listing process, they have earned the trust of many in the crypto industry when it comes to their listings.
In addition to that, Binance, which has secured a grade 5 license in Bahrain, has created the Innovation Zone, which allows users to trade newer token offerings from the comfort of their Binance account, while protecting less suited users from being exposed to the "risk" that comes with trading them.
Right now, the typical way of accessing many of these tokens and projects is through DEXs (decentralized exchanges). However, trading on a DEX or directly from a self-managed wallet requires a high degree of capability and understanding. Forgot your password/seed phrases? Your funds are gone. Sent a wrong tx? Better luck next time.
By forming the Innovation Zone, Binance provides its users with a safer space for accessing newer tokens that will likely have higher volatility than other tokens. This way, they are able to prevent more untoward scenarios for their users who just want to access certain projects.
2- Coinbase- Best for newbies in the space
Coinbase is a U.S- based exchange designed for beginners with a simple interface and limited transaction types. Being the only listed crypto exchange and one of the largest and most well-known in the US, it provides extensive educational material on blockchain, security features and many more.
Moreover, the platform saves the user from the hassle of a complicated onboarding process, as it is straightforward and eases users into trading. Its interface also makes navigating the platform and managing crypto a smooth experience.
As mentioned above, Coinbase provides very interesting and reliable informative material through its Coinbase Earn program, which teaches the user -mostly a beginner- how to trade specific cryptocurrencies and then rewards them with free crypto.
Despite its high fees, Coinbase is highly secure, for it uses two-factor authentication on all versions of its platform, stores 98% of customers' crypto offline, and has an insurance policy to protect custodial accounts of up to $250,000. A feature definitely worth considering, right?
Nevertheless, if you feel that you like the exchange but you are more of a pro investor, make sure to check out the other exchange's platform, Coinbase Pro.
3- DIFX- Most innovative exchange
DIFX, a fully insured cross-asset trading centralized crypto platform, is an all-in-one ecosystem for traders with multiple asset portfolios that range from indices, stocks, metals, forex, cryptocurrencies, etc.
Users are able to seamlessly trade between asset classes and have exotic pairings like BTC x Gold, Crude oil x LTC, Apple x ETH and so on. Furthermore, DIFX also provides services such as a liquidity provider, asset custodian, and institutional desk.
Nonetheless, DIFX stands out with its novel Nomination Program that allows users to nominate their family and friends as beneficiaries through a Blockchain-based asset transference system. With this program, users can nominate up to 5 members, in differing percentages to receive their DIFX wallet funds upon their demise.
In addition to that, its crypto wallets are fully insured, thanks to its partnership with Fireblocks, which is one of the leading crypto custodians in the world, with over 30% market share. In fact, Fireblocks is an enterprise-grade platform delivering a secure
infrastructure for moving, storing, and issuing digital assets. It serves over 1,200 financial institutions, has secured the transfer of over $2.5 trillion in digital assets, and has a unique insurance policy that covers assets in storage.
Having several licenses, and planning on expanding in Dubai after signing with Crypto Oasis, DIFX also has its own utility token, which is ERC20 and BEP20 compliant. These tokens allow users to benefit from 25% off their trading fees on the exchange.
Furthermore, DIFX provides 24/7 multi-language customer support, education through the DIFX Academy, and is working on global licensing strategies to ensure that the exchange is accessible to all.
It is also important to mention that DIFX was awarded the "Most Trusted Cross-Asset Trading Platform – 2022", according to the Crypto Expo Dubai as well as the Best New Trading Platform – 2021 by Forex Expo and Entrepreneur Middle East.
4- Kraken- Best for experienced traders
Why is Kraken one of the top five exchanges in the world? Because it is simply considered as one of the most professional-grade trading platforms. In addition to spot trading, Kraken users can also trade cryptocurrency using margin and execute crypto derivatives trading strategies.
Kraken is a specialized platform for experienced traders, as it offers advanced order types and supports margin and futures trading.
In the early days of the crypto market, the company established itself as the go-to platform for professional investors, and it has maintained its reputation as a reliable and professional trading venue.
Kraken offers two platforms, its main trading platform and its professional one, Kraken Pro, that provides highly customizable chart analysis tools, detailed insight into the order books, 13 order types, and high-speed execution.
Similar to Binance, Kraken Pro, the San Francisco-based exchange, enables investors to buy, sell, and store over 120 cryptocurrencies with highly liquid exchange, while charging low fees on its transactions.
5- Crypto.com- Best for high interest rates
Crypto.com is an exchange that was launched in Hong Kong as early as June 2016, but only rebranded to its current name in 2018. Led by a team full of alumni from respectable institutions in traditional finance, Crypto.com has since grown to more than 10 million users.
Having received license in Dubai, Crypto.com offers a tailor-made wallet app and an accompanying prepaid card that allows users to buy, sell, and store cryptocurrencies in real-time without having to depend on steep currency conversions or paying high transaction fees when they want to spend their cryptos.
The platform has truly improved, making it one of the leading crypto compound interest platforms around the world. This platform has currently been offering interest on more than 50 different cryptocurrencies, including many of the recent altcoins that crypto enthusiasts are excited to invest in.
In addition to having the option of several flexible terms, the user can earn interest on crypto up to 14.5% for coins like USDC, which counts as a considerable interest rate.
6- FTX- Feature-rich exchange
FTX made its way onto the cryptocurrency scene in 2019 with the goal of becoming the world's leading platform for trading tokens. Now, just a few years after its founding, it is a top centralized crypto exchange valued at over $18 billion.
Licensed in Dubai, FTX offers several products that may appeal to both crypto newcomers and sophisticated traders. For new investors, FTX offers spot trading on its platform. For experienced traders, the platform supports the trading of futures, stocks, and leveraged tokens.
FTX, backed by quantum trading firm Alameda Research, offers a wide variety of leveraged crypto trading products. Traders can trade basic and advanced derivatives products including perpetual futures, leveraged tokens, and MOVE volatility contracts, as well as fiat-supported spot markets, at leverage up to 101x. The FTX insurance fund covers investor losses in the event of a failure of the FTX liquidation mechanism or other unforeseen events. The feature-rich exchange offers multi-collateral lending sources, stablecoin settlements, and a fully customized trading interface.
With its latest deal, FTX US, a unit of Sam Bankman-Fried's FTX crypto exchange, gave it the right to acquire BlockFi, which was created to provide credit services to markets with limited access to simple financial products, and "protect client funds". FTX has also adopted many other failing projects to keep the good momentum of the space going.
Additionally, $SAND, the native token of the gaming platform The Sandbox, is listed on 20 global cryptocurrency exchanges, including four of the five top exchanges, among which is FTX. The FTX listing allows investors to buy, sell and trade $SAND, using innovative leveraged trading products and strategies accessible to both the pro and amateur investor alike. The trading of $SAND on FTX is another way The Sandbox makes it easier for gamers and investors to access $SAND to play, earn, and invest.
In addition to its special features, FTX offers unique "gifts", such as the Exclusive Limited Edition FTX NFT for Use in The Sandbox. Back then in April, a total of 5 NFTs were randomly awarded to qualified traders who traded over $50,000 in SAND contracts.
7- CoinMENA- Exchange in the region, for the region
Licensed and regulated by the Central Bank of Bahrain and having a provisional license in Dubai, CoinMENA is a Sharia-compliant digital assets exchange, where the user can buy, sell, store, and receive digital assets safely and securely, as well as deposit and withdraw in their local currency.
Known to be founded by Arabs, Dina Sam'an and Talal Tabbaa, and aiming to serve local markets, the exchange tries its best to empower new and seasoned investors in the MENA region, who want access to non-traditional investment options, by allowing them to participate in the new digital economy. Through competitive fees, high liquidity, and an educational approach, CoinMENA aims to be the simplest and most trusted digital assets exchange platform in the region.
Lately, the exchange has joined Visa's Fintech Fast Track program, speeding up the process of integrating with Visa, a world leader in digital payments.
The Visa Fintech Fast Track program will allow CoinMENA to leverage more easily the reach, capabilities, and security of VisaNet, the company's global payment network, and launch a host of Visa-exclusive services, including the CoinMENA VISA Card. The company will also benefit from the Visa Fintech Fast Track program to introduce a series of partner initiatives specifically designed to simplify onramp and offramp operations for its users.
In addition to launching a selection of new cryptocurrency features that are not available through any other onshore regulated exchange in the region, the Bahrain-headquartered company has become the first onshore licensed crypto exchange to enter Qatar and introduce limit trading. This feature allows users to set the price they want to buy or sell crypto, where the trade will be executed automatically once that price strikes.
More and more exchanges are paving their way through this wide yet vague space. This is why, when looking for a crypto exchange, it is essential to keep an eye out for fake websites and mobile apps. Even if the platform seems legitimate, make sure to check for any misspellings in the copy, inauthentic branding, and, in the case of a website, whether there is a small lock icon indicating security near the URL bar. Nevertheless, if the user plays their cards right, such investments can be very fruitful and successful.