Companies
Global News
NFT
WhaleFin and Atlético de Madrid Launch Genesis NFT Collection
The Genesis collection will allow users to access exclusive Atlético de Madrid signed jerseys, WhaleFin NFT airdrops and bonus interest coupons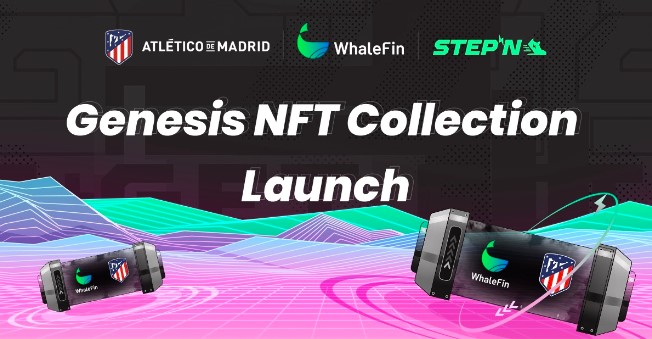 Amber Group, a digital asset company, announced that WhaleFin and Atlético de Madrid will be joining hands with STEPN, a Web3 Game-Fi and Social-Fi application, to launch the first-of-its-kind Genesis NFT sneakers collection.
The joint collection is built around STEPN's move-to-earn concept in which users can convert physical activity into currency that can be used in-game or redeemed as cash.
The NFT collection will feature a total of 1,001 digitally hand-drawn Atlético de Madrid sneakers that are stratified across Common, Uncommon and Rare soccer boots, all of which can be utilized in conjunction with STEPN on the Ethereum chain.
The designs of Common, Uncommon and Rare soccer boots will spotlight elements that are distinctly attributed to Atlético de Madrid's Trophies, Stadiums, and Players respectively. As part of the first round of its launch, WhaleFin will release 180 sneakers comprising 160 Common sneakers, 19 Uncommon sneakers and an exclusive pair of Rare sneakers up for grabs. The release will also be supported by STEPN with an airdrop of 20 Common sneakers to its user base.
Owners of the Genesis NFT collection can walk, jog, and run for rewards detailed within the STEPN application. The Genesis sneakers will additionally provide NFT owners with access to special benefits from both WhaleFin and Atlético de Madrid on an ongoing basis. This includes a chance to secure one of the 11 exclusive signed jerseys as well as front-row access to limited WhaleFin NFT airdrops and bonus interest coupons. Additionally, Atlético de Madrid and WhaleFin are set to launch an upcoming raffle for NFT owners to win an exclusive VIP experience in Madrid for two to catch a live match at the Cívitas Metropolitano.
Annabelle Huang, Managing Partner at Amber Group said: "We are so excited to be part of this NFT Collection, and this launch is a significant milestone for Amber Group as we continue our work to go beyond digital wealth and into digital lifestyle, and empower Web2 businesses and brands like Atletico de Madrid transition into Web 3. As NFTs gain mainstream popularity, we want to show the utility of these digital assets online and offline and there is no better way to do this than with STEPN which is bridging the two worlds. Through this launch, we hope that more people will recognize the value of digital assets as our team continuously delivers new, innovative touchpoints for communities to migrate into Web3."
Íñigo Aznar, Chief Commercial Officer at Atlético de Madrid said: "This strategic alliance with WhaleFin opens a new world of possibilities for the club andour fans worldwide. Exploring new ways to connect with our fan base and with communities like STEPN allows us to discover innovative possibilities offered by Web3."
Mable Jiang, the Chief Revenue Officer at STEPN said: "This partnership with WhaleFin and Atlético de Madrid will bring a unique experience to fans around the world and it is a first of its kind partnership for STEPN. Through this partnership, our goal is to connect the world of exercise to the Web3 space and provide tangible, real-world rewards for global fans who own a pair of NFT sneakers from the Genesis collection. This launch is a pivotal step in our roadmap to unlock both the value of collectability and utility of NFTs. We see a huge potential to help our partners to better engage with their audience through our product, and we are incredibly excited to work alongside such a prestigious and well established organization to promote a healthy lifestyle whilst allowing them to interact actively with their global fan base."