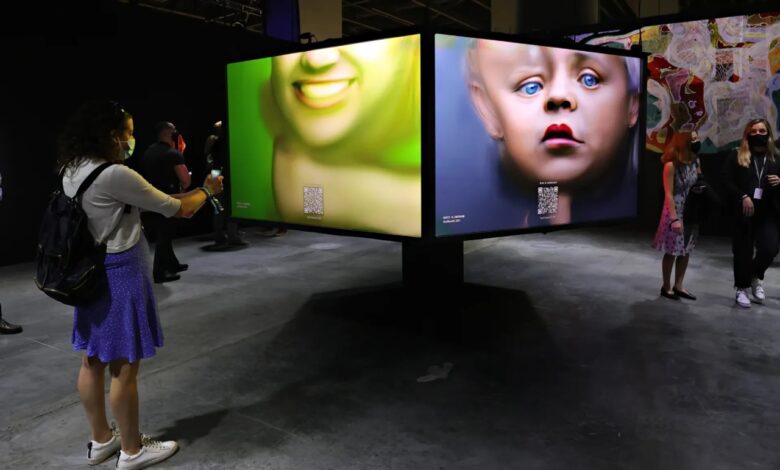 The Tezos Foundation, the Swiss non-profit arm of the Tezos blockchain, has announced it will commit £1m to creating a permanent collection of non-fungible token (NFT) art made on its platform.
The collection—which is to take the form of a digital art gallery launching this summer and hosted on the foundation's website—is initially being managed by the British photographer Misan Harriman, who is the chairman of the Southbank Centre in London. He will focus on acquiring works by "up-and-coming" artists from Africa and Asia, regions that are "underrepresented" in the NFT community, according to a press release. In 2020, Harriman became the first Black photographer to shoot the front cover of British Vogue.

"The Tezos Foundation Permanent Collection will support and celebrate a new generation of artists that have chosen a smart contract-enabled path to be their true selves," Harriman says. "As the first curator of this collection I want to make sure the world sees the diverse voices that are making truly extraordinary work with crypto art. We will be the custodian for this new community of creatives."
The Tezos Foundation, which has access to around £1bn in funds, was formed in 2017, one year before the launch of the Tezos network, an open source blockchain that can support smart contracts, much like Ethereum. At the time of publication, one unit of its native cryptocurrency tez (XTZ) is valued at $1.7 and has a 24-hour trading volume of $141.9m, according to crypto.com. For comparison, one unit of Ethereum (ETH), the most widely used cryptocurrency to trade NFT art, is currently valued at $1,909.
In the past year, Tezos has been making moves to draw the art world to its platform, having staged a project in collaboration with the German digital artist Mario Klingemann at the most recent edition of Art Basel in Miami Beach. This summer it will be the official blockchain partner of both Art Basel in Hong Kong and Art Basel fairs.
However, the launch of its NFT collection comes at a time of widespread concern for the future of the combined cryptocurrency market, which has recently plummeted in value, dropping to levels not seen since it began surging in late 2020. In the last month, almost $1tn of value has been wiped from the market according to Forbes. In the past 24 hours alone the value of Ethereum has crashed 22%.
Staunch crypto and NFT proponents maintain that market fluctations are to be expected, while additionally pointing out that the wider stock market is also in freefall due to hiking global interest rates and the effects of Russia's invasion of Ukraine. But others now warn of a "ripple effect" created by this extreme volatility that threatens to tank the blockchain industry.
Nevertheless, Tezos remains confident that NFTs will break down significant barriers in the art world. Speaking to the difficulty currently faced by NFT creators in a number of Asian and African countries, including India and China, whose governments have placed restrictive laws around the trading of cryptocurrency, Reid Yager, Tezos ecosystems' global director of communications, says: "While the NFT art movement has lowered barriers to entry for artists and other creatives across the globe and ushered in a new medium for the art world, hurdles to adoption such as regulatory and useability concerns remain, and access to cryptocurrencies that power NFTs is fragmented." He adds: "But rest assured, artists, anywhere in the world, are able to create, mint, and sell NFTs freely. And part of this is because of the unique artist community that supports each other at a grassroots level—actively helping each other to navigate this new medium."