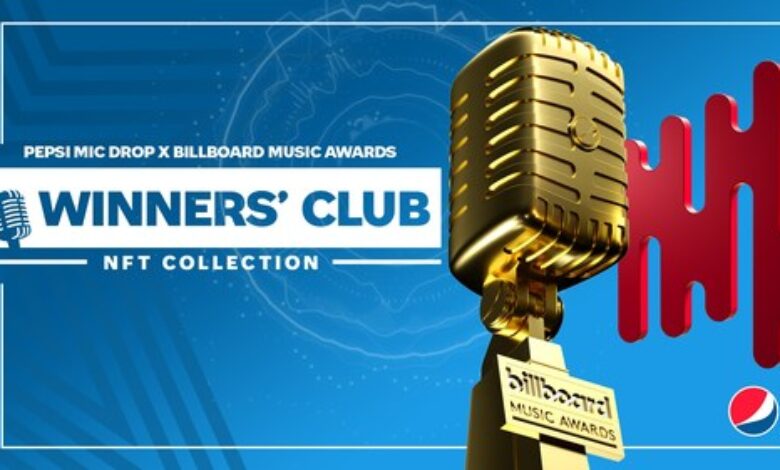 Pepsi announced a first-ever innovative second screen NFT experience in partnership with Billboard and MRC Live & Alternative to provide a new way for fans to engage with live entertainment. The groundbreaking Pepsi Mic Drop x Billboard Music Awards "Winners' Club" NFT Collection, available through the Billboard ChartStars platform, is a limited-edition digital collectible collection created for the "2022 Billboard Music Awards" (BBMAs) that gives fans the opportunity to claim NFTs in real-time as awards are announced throughout the show. Additionally, the telecast will feature a brand-new "Pepsi Mic Drop Moment" honoring one artist or group that has earned unique success on the Billboard Hot 100, continuing the Pepsi brand's rich legacy in working with and supporting musicians.
Score a Free "Winners' Club" NFT DURING the Show

The Pepsi Mic Drop x Billboard Music Awards "Winners' Club" NFT Collection will mark the first time music fans will be able to take home a piece of the Billboard Music Awards via Billboard ChartStars, built on a leading eco-friendly Flow blockchain. As each award is announced live during the show, a custom digital collectible will unlock in real time, available for free minting for only 20 minutes, rewarding hardcore Billboard Music fans with epic, one of a kind NFTs celebrating this year's awards. Fans can get in on the action and learn how to redeem the "Winners Club" NFT Collection all night long by following Pepsi, Billboard and BBMAs on all social channels and visiting BillboardChartStars.com.
The First-Ever "Pepsi Mic Drop Moment"
The exclusive NFTs aren't limited to the existing Billboard Music Award categories, though. One additional exclusive drop will feature the Pepsi Mic Drop Moment, a brand-new honor from Pepsi celebrating one artist or group who has achieved huge success on the Billboard charts this year. While the honor is presented live during the telecast, fans can look out for the QR code driving them to the Billboard ChartStars drop to redeem the exclusive "Pepsi Mic Drop Moment" collectible featuring the honoree for a limited time during the show. QR CODE is a registered trademark of Denso Wave Incorporated.
"Pepsi has a deep-rooted heritage in music, so our partnership with Billboard to create the Pepsi Mic Drop x Billboard Music Awards 'Winners' Club' NFT Collection is a great reflection of our ongoing desire to connect with fans that share our unapologetic love of music," said Todd Kaplan, Chief Marketing Officer, Pepsi. "This collection is built to be broadly accessible to music fans who want to capture a piece of history from this year's 2022 Billboard Music Awards. It's free to mint and easy to access through a never-been-done live minting experience and shows our commitment to the Pepsi Mic Drop platform and desire to create new experiences for music fans everywhere.
"For the first time, music fans will have the opportunity to be forever linked to their favorite artists, by sharing ownership of a moment in time tied to the 2022 Billboard Music Awards," said Mike Van, EVP, Head of Global Brand Partnerships, Billboard. "We could not have planned a better time to launch ChartStars nor could we have asked for a better partner than Pepsi to celebrate exceptional artist achievements on the Billboard charts."
"Every year the Billboard Music Awards fuels the cultural conversation through the power of live event television and is one of the biggest stages for artists to celebrate their charting achievements, and we're so proud to integrate Pepsi into our show for a special Pepsi Mic Drop Moment that can't be missed and for fans to have the opportunity to own a piece of it," said Adam Stotsky, President, MRC Live & Alternative. The Pepsi Mic Drop x Billboard Music Awards "Winners' Club" NFT Collection is the latest in the brand's sustained commitment to Web3 and the innovative space of Non-Fungible-Tokens (NFTs). Last year, the brand launched the Pepsi Mic Drop genesis NFT collection, one-of-a-kind generative style NFTs celebrating the brand's legacy in music, and recently partnered with Mary J. Blige's "Strength of a Woman Festival & Summit" on an exclusive NFT drop for attendees, showcasing trailblazing women in web3, music, entertainment, food, business and more.