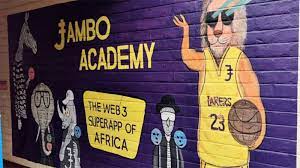 Jambo, a Congo-based startup building a Web 3 user acquisition platform, has closed a $30 million Series A funding round led by Paradigm, marking the crypto native investing giant's first investment in Africa.
James Zhang, CEO and Co-Founder of Jambo said: "Growing up in the Democratic Republic of Congo, my sister and co-founder Alice and I witnessed first hand the continent's potential for economic innovation and prosperity. Coming from a family committed to investing in Africa's success for over three generations, we are dedicated to helping more Africans achieve financial well-being.
We started Jambo last year with the mission to onboard the next million (and potentially billion) African people to Web3. As blockchain and fintech enthusiasts ourselves, we're bullish on Web3's potential to bring prosperity to every corner of Africa, where we are seeing the youthful, educated and smartphone-savvy population already embracing crypto at a rapid clip — Africa's crypto market grew 1200% in value in the past year alone. Equipping the continent with the correct tools to better harness this disruptive technology, however, is no simple task.
Given Africa's vast size and diversity, widespread adoption of Web3 must be organic with people across the continent's regions and countries embracing the technology on their own terms. That's why the key to Web3 proliferation in Africa is access to on-the-ground education. One city at a time, we're building local grassroots networks of ambassadors that cater our educational programs to each community, and we've reached some exciting milestones over the last couple of months, including:
Opening Jambo offices across the continent for our on-the-ground operations.
Partnering with thousands of internet cafes and college booths to provide Web3 students access to computers and high speed internet.
Garnering interest from thousands of people in Africa to test and use the Jambo Web3 super app that we're building.
And we're not slowing down — there is much more work to be done if we're going to achieve our mission and help Africa seize this moment.
To that end, we're excited to announce that we recently closed our $30M Series A funding round led by Paradigm, a firm known for backing disruptive crypto and Web3 companies and protocols. Paradigm has been a fierce supporter of the work we've done to date and will be a great partner in helping us achieve our ambitious goals for the future.
In turn, Casey Caruso, Investment Partner at Paradigm said: "As Paradigm's first investment in Africa, we couldn't be more excited to partner with the Jambo team in this next phase of growth. We see massive Web3 potential in Africa and it's clear that James and Alice are uniquely positioned to build a durable on-ramp for the continent".
He also added: "We couldn't be more excited to be on this journey together with some of the best investors, advisors, and partners across the Web3 universe.