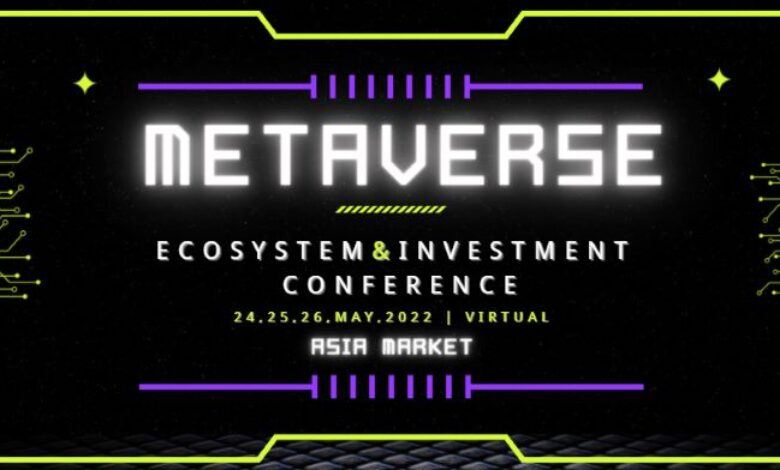 Metaverse Ecosystem Development & Investment Conference-Asia Station launches on 24、25、26 May 2022 online, organized by the Metaverse Club.
The conference will showcase priceless content over three half days as well as interactive networking with over 5,000 participants. More than 45 expert speakers; meet industry leaders and investors, will discuss latest blockchain games, NFTs, DeFi and technology products and services in Metaverse. In addition the event will showcase investment and PR opportunities in the Asia Pacific market.
More than 40 featured speakers have participated in the conference to discuss the Metaverse ecosystem development and the investment opportunities in Metaverse. They include:
MetaTokyo, Takayuki Suzuki, CEO
Upland, Dirk Lueth, Co-Founder
Decentraland, Alejandro De Grazia,Head Movies & Entertainment in General
NFTrade, Harrison Seletsky, Head of Communications
Charisma Entertainment, Guy Gadney, CEO
Technical University of Munich, Isabell Welpe,Professor of Strategy
Aavegotchi, Jesse Johnson, Co-founder and COO
Finstep Asia,Musheer Ahmed,Founder & MD
Multiverse Labs,CEO,Cliff Szu
LOCGame,Mik Mironov,CEO
Gumi Cryptos Capital, Miko Matsumura, General Partner
Cypher Capital, Bijan Alizadeh ,Partner
LaunchMyNFT, Kwebbelkop,CEO
Multiverse Labs,Cliff Szu,CEO
Aimedis, Michael Kaldasch, Founder/CEO
A'Z Angels, Mahmoud Ali, General Partner
India Blockchain Alliance, Raj Kapoor, Founder
Subgame,Ambassadors
Cointelligence Fund, On Yavin, Managing Partner
ParlayMe, January Barnes, Founder & Tech Reporter
Metaverse Club, Jack-D, COO
Gamma Law,David Hoppe,Managing Partner
Karma the Game of Destiny, Robert Porter, CEO
Baptiste Tricoire ,Marketing Consultant &Forbes writer
Genopets, Jay Chang, Co-Founder
Mulana Venture, Gilbert Ng, Partner
Korea App Inc., Jeong Hak Soo, CEO
France Crypto,Clément Fermaud,Founder
Smobler Studios,Dr Loretta Chen,Co-Founder
Duelist King,Nicole Nguyen,CMO
Asia Metaverse Ecosystem and Investment Conference is the center stage for the blockchain game, NFT, defi, and metaverse-related industry, drawing 5,000+ participants including hundreds of CEOs and founders from across the global crypto-based ecosystem. We provide our partners with a platform to engage with a targeted audience, meet with senior decision-makers, form new partnerships, promote brand awareness, or launch new products to industry and media.
*Learn the latest industry knowledge of the metaverse;
*Meet potential partners, Metaverse start-ups;(Blockchain Games, NFTs,Defi)
* Leverage your solution to people;
* Networking and connecting with VC and Investors;
* To attract new users in Asia into your projects;
* Exposure within the crypto community in Asia;
* Media release in Chinese, Japanese, Korean, and English in China, Japan, South Korea, and Asia other countries