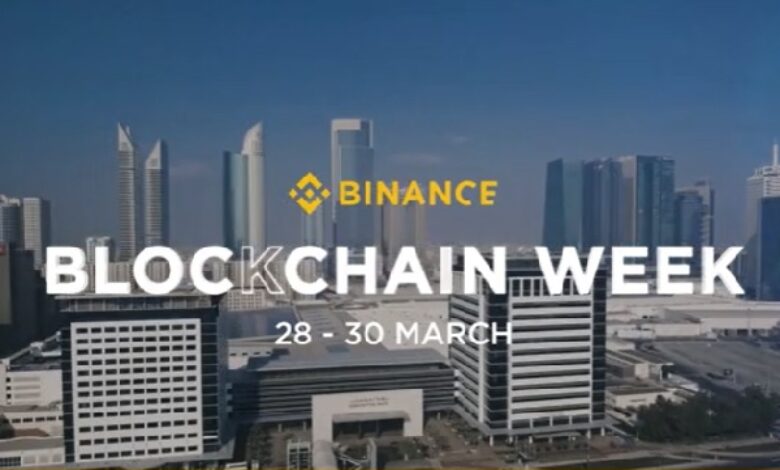 Binance Blockchain Week in Dubai UAE, held between March 28 and 30, 2022 hosts 80 top Blockchain speakers from around the globe. Binance Blockchain Week will see over 2,500 attendees, and thousands more live-streaming via Binance Live, dive into tomorrow's technology, through the world of NFTs, the metaverse and beyond.
Alongside CZ, CEO and co-founder of Binance, there will be over 80 speakers including: Vukasin Vukoje, Founder, Alt Labs and Filecoin; William Quigley, Co-founder and CEO, Tether and WAX; Sandeep Nailwal, Co-founder, Polygon; Leslie Lamb, CMO, CoinFLEX; Soo-Man Lee, Founder & Chief Producer of SM Entertainment; Beniamin Mincu, CEO of Elrond Network; Sergej Kunz, Founder 1INCH; Sebastien Borget, Co-Founder and COO of The Sandbox; Kevin Ma, CEO of Hypebeast; Robby Yung, Co-Founder of Animoca Brands; Óscar Mayo Pardo, Executive Director of La Liga; Ian Goddard, Head of Technical & Innovation Partnerships of Alpine Formula 1 Team; Noah Raford, Chief of Global Affairs at Dubai Future Foundation; H. E. Gabriel Abed, Barbados Ambassador to the UAE; William Frentzen, former DOJ prosecutor and current partner at MOFO law firm; Youli Lee, Senior Legal Director – Global Head of Investigations, Litigation, and Governance at Chainalysis; and many more.
The three days of Binance Blockchain Week are separated by topic:
DAY 1: Crypto Ecosystem Growth – Adoption, Industry Building, & User Safety
DAY 2: Navigating the NFT, GameFi, and Metaverse World
DAY 3: Mastering the Essentials of Crypto Investment and Trading
Binance Blockchain Week is an opportunity to dive into tomorrow's most important topics and build understanding today. Tickets are on sale now. The event will also be live streamed through Binance Live online and in the Binance App for Binance users.
The event comes at a time when Binance has received two licenses within the GCC in the span of one week.