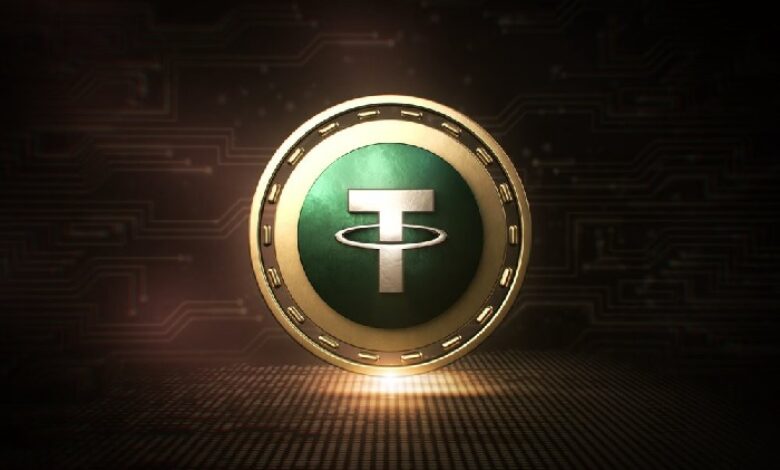 Tether (USDT) could be America's forty-first largest bank, a tradingplatforms.com's data presentation shows. The stablecoin has a market capitalization of about $79 billion per the presentation. That valuation means that USDT has surpassed the total value of all but the top 40 banks in the U.S. by market capitalization.
With its market cap, Tether is now worth more than 41st-placed City National Bank. The latter has a valuation of $76 billion. Again USDT is just $2B shy of the fortieth placed Zions Bancorporation N.A, which has a market cap of roughly $81.5 billion.
How does Tether stack up against leading banks?
It seems like an odd comparison, but there are some similarities between USDT and banks. That makes it worth looking into how they stack up against each other. One can view both as stores of wealth for people looking for stable holdings for their assets. Again, both have to deal with problems of liquidity.
"By all intents and purposes, Tether is a bank only that it isn't," says tradingplatforms.com's Edith Reads. She says so, alluding to the crypto's use in storing and moving funds globally, and adds, "The comparison puts into perspective how far the cryptocurrency industry has come. Tether's growth is a remarkable feat. Though barely a decade old, it is competing favorably with some banks that have been in business and amassed capital for decades."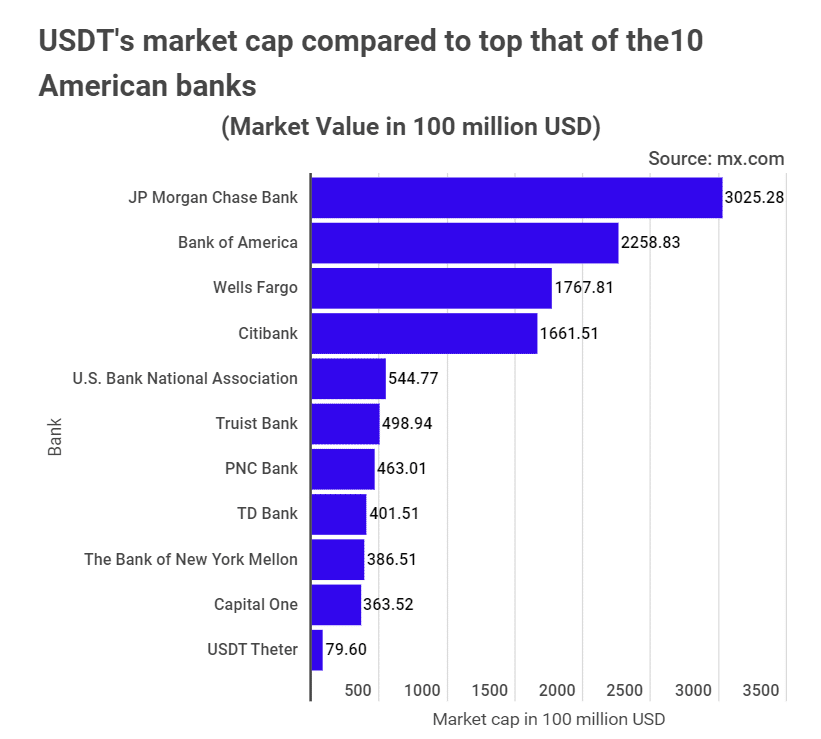 Ranking America's top banks
Tradingplatforms.com's analysis considered the top 250 banks in America. JP Morgan Chase Bank remains the largest bank in market cap terms. The banking giant is worth over $3T.
Other banks in the trillion-dollar range include, Bank of America(BofA), Wells Fargo (WFB), and Citibank(Citi). BofA holds the second spot with a capitalization of $2.25T. Meanwhile, WFB and CITI have market values of $1.76T and $1.66T, respectively.
Tether's controversies
Despite its position as leading stablecoin, Tether has been criticized for its non-transparent nature. It does not provide an audit report that would prove that there are enough dollars in reserve to back all of its tokens. Even so, it continues to be widely used across crypto exchanges.
Tether's woes began in 2019 when it changed its backing assets. On launching in 2014 as Realcoin, the project insisted that each USDT coin would be backed by one USD. It changed that in 2019 "expanding" the backing to include cash equivalents, other assets, and receivables from credit by third parties. Those third parties would include affiliates.
One of those affiliates is Bitfinex. A 2019 investigation into the duo's affairs found them complicit in covering up an alleged loss of $850M of corporate and client money. At that time, Tether's lawyer admitted that only 74% of the coin had backing.
However, New York's Attorney General's investigations revealed that the project lacked the funds to back its circulating coins.