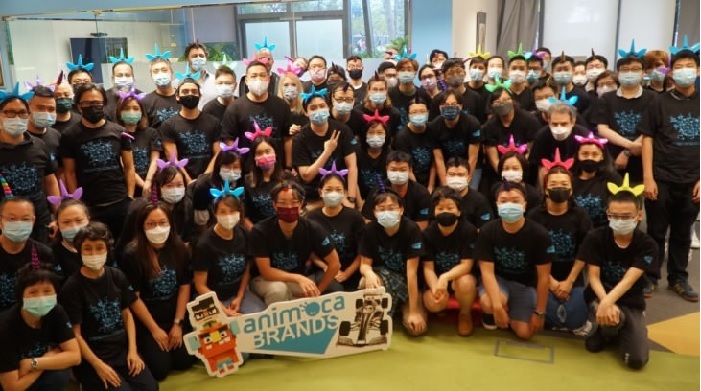 Animoca Brands Blockchain gaming and open metaverse entity has raised a new round of funding, the fourth time since May, and this time the company has scooped up $358.8888 million at a $5 billion pre-money valuation.
Liberty City Ventures led the round, with other investors including 10T Holdings, C Ventures, Delta Fund, Gemini Frontier Fund, Gobi Partners Greater Bay Area, Kingsway, L2 Capital, Mirae Asset, Pacific Century Group, ParaFi Capital, Provident, Senator Investment Group, Sequoia China, Smile Group, Stable Asset Management, Soros Fund Management, Wildcat Capital Management, Winklevoss Capital, and others.
The new capital will be used to continue funding strategic acquisitions and investments, product development, and licenses for popular intellectual properties.
Animoca Brands is working to build the open metaverse by bringing digital property rights to online users through the use of blockchain and NFTs; these technologies enable the true digital ownership of users' virtual assets and data, and make possible various decentralized finance (DeFi) and GameFi opportunities (including play-to-earn), asset interoperability, and an open framework that can lead to greater equitability for all participants.
The global video game market generated an estimated $180.3 billion in 2021, according to market researcher Newzoo. Meanwhile, market researcher Emergen Research estimated that the metaverse market size is expected to grow to around $829 billion by 2028.
During the course of 2021, Animoca Brands raised $216.28 million to power its vision of digital property rights and the open metaverse, while its subsidiary The Sandbox completed a capital raise of $93
million in November.
Animoca Brands acquired The Sandbox developer Pixowl for $4.875 million.
Animoca Brands and subsidiaries offer a broad portfolio of game products, both centralized and decentralized, branded and original, with coverage across most primary platforms including mobile devices, game consoles, PC, web, and blockchain. Products include games ranging from hypercasual to hardcore, as well as collectibles, utility tokens, esports titles, and more.
Some of the company's major blockchain game projects include The Sandbox and its associated utility token SAND, the upcoming Phantom Galaxies triple-A blockchain third-person shooter, the REVV token ecosystem (REVV Racing, F1 Delta Time, MotoGPfIgnition, and Formula E: High Voltage), the Arc8 platform and its Gamee utility token.
In addition to its product development and publishing businesses, Animoca Brands is an active investor in more than 150 of the world's most meaningful NFT and metaverse-related companies, including OpenSea, Dapper Labs, Yield Guild Games, Star Atlas, Axie Infinity, Thetan Arena, and many others.
"The trailblazing Animoca Brands is demonstrating to the world the game-changing characteristics of Web3 and the open metaverse," said Murtaza Akbar, managing partner at Liberty City Ventures, in a statement. "Animoca Brands is championing a more decentralized, open, fairer, and more inclusive future where everyone can truly own their digital goods and benefit from them accordingly. We are extremely proud to be working with Yat and his world-class team to build the future of asset ownership and management."
The funding comes off other big blockchain gaming financing, including Forte's raise of $725 million. Concept Art House raised $25 million and Galaxy Interactive raised a $325 million fund to invest in blockchain games. Bitkraft raised a $75 million token fund. Sky Mavis raised $152 million, Dapper Labs raised $250 million, Mythical raised $75 million, and biggest of all Sorare raised $680 million.
According to BGA member BlockchainGamer.biz, an estimated $4 billion has been invested in blockchain gaming in the year 2021. The top five companies that raised the most money were Forte ($900 million), Sorare ($783 million), Dapper Labs ($607 million), Mythical Games ($270 million), and Animoca Brands ($221 million).