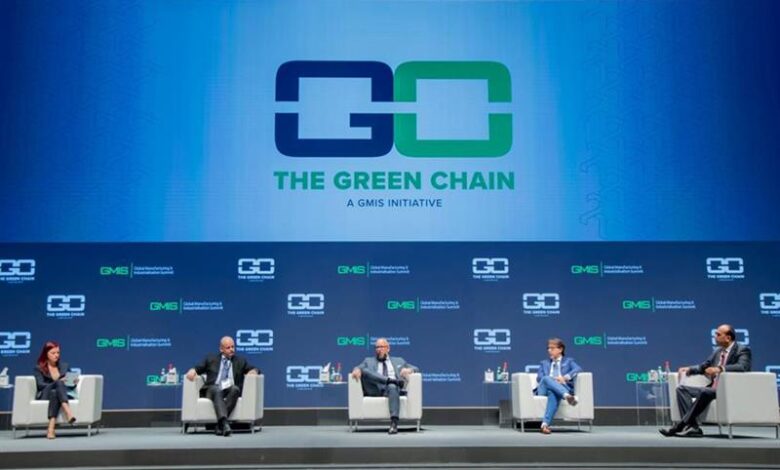 The Green Chain Initiative was launched as an unconventional impact investment platform at the close of the Green Chain Conference on the third day of the GMIS Week, held at the Expo 2020 Dubai Exhibition Center.
The Green Chain platform will attract and host programmes to encourage the adoption of alternative energy solutions supported by sustainable impact investments. The Initiative aims to accelerate the global decarbonisation of the manufacturing sector by curating investment opportunities for sustainable projects and utilising blockchain and crypto technologies to offer an online platform to encourage environmental impact investments in developing countries.
The concept of the Green Chain Platform was developed and conceptualised through working groups led by leading global consultancy firm Roland Berger, and in partnership with the United Nations Industrial Development Organization, The Association of German – Chambers of Commerce and Industry, German Emirati Joint Council for Industry & Commerce, Lloyd's Register and Spherity. Project partners include Schneider Electric, Engie Energy Access and Blockchain enabled Libra Project that launched first ever energy security token out of ADGM in UAE.
Namir Hourani, Managing Director at the Global Manufacturing and Industrialisation Summit (GMIS) " The manufacturing industry is one of the largest contributors to greenhouse gas emissions worldwide, and so it's critical that manufacturers start adopting new technologies to decarbonise the sector. One way of doing this is through deploying renewable energy technology solutions, but these are usually expensive, and these high costs make it a challenge for developing countries and Least Developed Countries (LDCs) to adopt technologies that are essential to maximise the potential of renewable energy resources. This is particularly problematic when it comes to the technology required for storage and transportation of renewable energy over long distances so, despite being rich in renewable energy resources, there is very little investment in renewable energy production in developing countries. The Green Chain initiative aims to tackle this issue by providing potential investors with environmental impact investment opportunities in developing countries and encouraging them to deploy any financial returns towards decarbonizing their facilities." he added.
The Green Chain conference offered key panel discussions around topics related to mass-scale decarbonisation of industry, the electrification of high energy consuming sectors, clean carbon credit markets for inclusive and sustainable energy economies, and the gap between renewable energy sources.
A country focused session offered insight on UAE plans to use nuclear energy for hydrogen production as a stable energy source compared to present solar and wind solutions. Other sessions offered key insights on the potential for green, blue and pink hydrogen to increase investor confidence in alternative energy markets and offering exciting opportunities for the future of industry globally.
The Green Chain Conference was held alongside the GMIS Week at EXPO's Dubai Exhibition Centre, which gathered a cross-section of over 250 global leaders from the public and private sector. The GMIS Week included the two-day #GMIS2021 Summit on November 22-23, the Global Prosperity Conference on November 24, and country focused sessions in partnership with the United Kingdom, Australia, and Italy. Throughout the six-day event, a manufacturing and advanced technology exhibition is featuring over 30 world-class exhibitors to highlight the UAE government's 'Make it in the Emirates' campaign, a first-of-its-kind initiative to encourage local and international investors, developers and innovators to benefit from the facilities and incentives offered by the country's industrial sector.