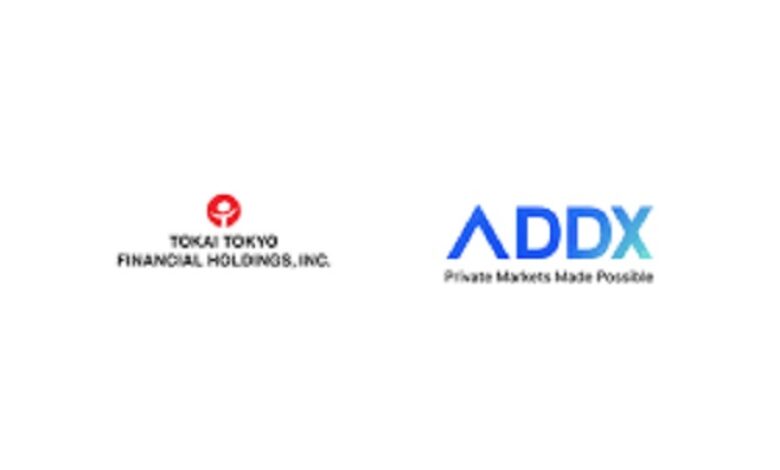 Financial services company Tokai Tokyo Financial Holdings and private market exchange ADDX have partnered to offer fractional private market investment products to investors in Japan, after Tokai Tokyo secured a security tokens license from the Japanese regulator.
The Tokyo Stock Exchange-listed Tokai Tokyo is the holding company for a leading securities brokerage[1] in Japan. The company offers investment and trading services to investors via its network of 144 offices in Japan. It holds consolidated net assets worth US$1.4 billion and has US$38 billion of client assets under management.
Tokai Tokyo received a license from the Japanese regulator – the Financial Services Agency (FSA) – that allows the company to deal in security tokens, also known as digital securities. With the new license, Tokai Tokyo and ADDX plan to collaborate on security token issuances by Japanese real estate companies and banks. These future deals will be tokenised on the ADDX platform before being distributed by Tokai Tokyo to sophisticated investors in Japan. In addition, Japanese investors will be able to trade the digital securities on the ADDX secondary exchange through Tokai Tokyo.
With this new business partnership, ADDX expects a significant increase to its revenue from the Japanese market. Under the tie-up, Tokai Tokyo will be the first company in Japan to distribute security tokens that are tradeable on a secondary exchange. It will also be the first in Japan to deal in security tokens for non-liquid assets[2], as previous security token licensees received regulatory approvals for liquid assets[3].
For Tokai Tokyo and ADDX, this is a partnership that began in 2019 when Tokai Tokyo made its first investment in ADDX, previously known as iSTOX. Tokai Tokyo was also a lead investor in the US$50 million Series A fundraising round by ADDX in January 2021. Other ADDX shareholders include Japanese investors JIC Venture Growth Investments (JIC-VGI) and the Development Bank of Japan (DBJ), Singapore Exchange (SGX) as well as Temasek subsidiary Heliconia Capital[4].
Yuji Ban, Senior Managing Executive Officer, Tokai Tokyo Financial Holdings, said: "It took a long time to get to this point, but we now have a license for security tokens. Our future collaboration with ADDX will be key to establishing an innovative business model in Japan, where a digital security exchange like ADDX does not exist yet. We and many others in Japan eagerly anticipate working with ADDX to create investment opportunities for Japanese investors and new financing options for issuers. We look forward to working with ADDX on a variety of security token projects in the near future."
She added: "Tokai Tokyo is one of the oldest and most trusted financial companies in Japan, with roots dating back to 1908. We expect this partnership to yield multiple deals over the next few quarters. The possibilities are exciting and limitless, given how the two companies share the same vision on innovation in the financial services and bring complementary strengths to the table."
We are the only securities company to be selected as one of the "Digital Transformation (DX) Brand 2021" sponsored by the Ministry of Economy, Trade and Industry of Japan and the Tokyo Stock Exchange. One of our strengths in the digital arena is our Asian network of STOs, leveraging Singapore's ADDX security token exchange, and at the same time, we have incorporated blockchain technology into our group. One of the targets of the "Tokai-Tokyo Digital World" that we aim to achieve is to contribute to regional development by providing digital functions, new means of financing, and digital currency platforms. In addition to the digital field, we also have a variety of service functions such as insurance, loans, and asset management. By providing these services not only to financial institutions but also to businesses, we hope to create a platform business model that is unique in Japan.