Companies
MENA News
Tokenization
Floki Inu dog theme crypto global marketing campaign comes to Dubai
Floki Inu has already contracted to spend almost $1,500,000 in marketing.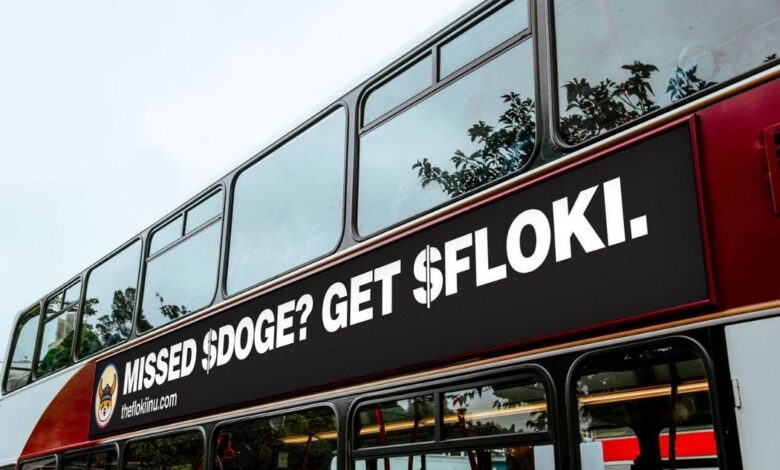 Floki Inu is a recently created meme-themed coin, inspired by Shiba Inu, and more precisely – by Elon Musk's decision to name his dog Floki. Floki Inu is a dog-themed cryptocurrency that hopes to dethrone both SHIB and DOGE coins and occupy the position of the most popular memecoin in the market. Floki Inu launched its internaitonal marketing campaign that has reached the shores of Dubai UAE after hitting London and Los Angeles.
Floki Inu has become a very popular dog coin in the crypto market. The memecoin was created by an unknown team of developers who were enthusiastic fans and members of the Shiba Inu community.
Since its launch in June 2021, the memecoin has experienced a significant price increase. Initially, FLOKI was listed for millionths of a cent. However, in September, the price soared by more than 250,000%, seeing the memecoin reach new all-time highs (ATHs).
Floki Inu has a total supply of 10 trillion tokens, with nearly 50% presumably burned on Ethereum and Binance Smart Chain. At the time of this writing (November 1st, 2021), FLOKI currently has a market cap of $2.1 billion.
The project is currently working on three flagship utilities: an NFT gaming metaverse, an NFT and merchandise marketplace, and an education platform, which it believes will highly interest investors.
The project runs on both the Ethereum blockchain and the Binance Smart Chain (BSC) network. Recently Floki Inu annnounced that it will be running a global marketing campaign budgeted at 1.5 million USD, and has signed a huge and strategic contract to advertise in the London Underground and across about 300 London buses. These advertising campaigns will run together and will be a full-out assault of the London public transportation system.
London has a population of about nine million. In addition to its population, it gets over 21 million visitors annually. As the capital of the United Kingdom, London not only has lots of residents, but it also has many business people visiting, as well as those on holidays from overseas. This potential exposure to a host of different people makes London Underground advertising a profitable and popular investment for many large businesses. The tube network covers over 402km, serves 270 busy stations, and carries a total of 4.8 million passengers daily.
In addtion Floki Inu Will Lock Down The Los Angeles Metro Area For Three Months, Starting In October 2021.
Los Angeles is in the heart of California, and is a major economic and tourist hub to the entire world. The Los Angeles metropolitan area has a population of about 18 million people. In addition to its residents, Los Angeles is also visited by 50 million annual visitors. Los Angeles boasts being the number one city in the world when it comes to purchasing power. Los Angeles is also one of the most important cities in the world when it comes to cryptocurrency innovation.
Floki Inu has signed a deal to advertise on three billboards in the middle of downtown Los Angeles, through Kevani. Kevani has worked with clients that include Google, Coca Cola, American Airlines, Microsoft and Youtube and owns more than 72,000 square feet of advertising space in Los Angeles. Floki Inu anticipates getting over 110 million impressions during the three months of its billboard campaign.
In addition to the billboard campaign, Floki Inu is also advertising for three months on 25 buses in the Los Angeles metropolitan area. Floki Inu anticipates getting over 60 million impressions during the three months of its bus campaign. Just as with the London Underground, advertising on the transportation system of a major metropolitan area that garners millions of visitors will provide the biggest impact in the most efficient way.
Gate.io recently began trading in Floki Inu. This was a huge milestone for Floki Inu, and today, Gate.io alone accounts for over 1 million in daily volume trading of the FLOKI token. However, Floki Inu is not satisfied with just trading on Gate.io. Floki Inu just announced that it will be listed on another top 35 exchange, according to Coinmarketcap.com. This exchange is a top 10 exchange in China.
Floki Inu has entered into strategic partnerships with three seperate international marketing agencies. These agencies will be marketing Floki Inu in Japan, China, Russia, Vietnam, and Indonesia. These marketing agencies boast cryptocurrency clients such as Aave, Huobi, Algorand, FTX, OKEX, Binance, ZCash, NEM, and Enjin.
It would seem that this international marketing campaign has reached the shores of Dubai UAE, through Dubai International airport which sees over 23 million visitors yearly and this is expected to increase with the current Expo2020 exhibition happening.
PasserBys have spotted Fluki Inu ads at the Dubai International Airport.