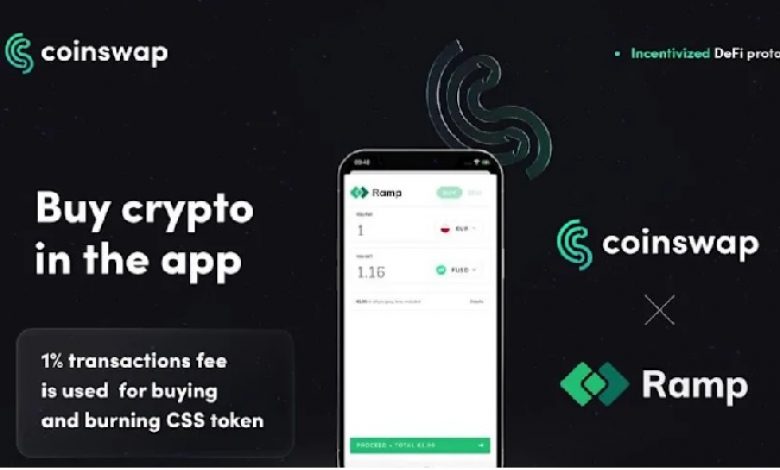 CoinSwap Space, decentralized exchange on the Binance Smart Chain, has integrated with Ramp. This partnership will allow users to purchase crypto through CoinSwap Space directly to their Metamask or many other wallets using a credit card or bank transfer. CoinSwap is the first DEX to implement these kind of crypto purchases directly onto non-custodial wallets via Ramp and the partnership demonstrates the exchange's commitment to making DeFi accessible to the average retail investor.
CoinSwap Space is a suite of DeFi tools that allows its users to engage in a myriad of different DeFi functions through one easy to use protocol. With CoinSwap, users can add capital to liquidity pools, stake tokens, and yield farm all on one easy-to-use interface.
CoinSwap is the first decentralized swap protocol to integrate a fiat onramp as part of its service. The innovative new integration with Ramp will allow CoinSwap swappers to transfer FIAT directly into crypto tokens without the need for going through a centralized exchange.
As a registered fiat onramp, Ramp will sometimes request users to complete KYC. The combination of a KYC service with a decentralized exchange is a brand new concept and will take some getting used to, especially for those investors who value the anonymity that crypto is known for. However, it is also an indication of a shift in philosophy that crypto and DeFi is currently undergoing.
It is worth emphasizing that CoinSwap remains entirely decentralized and does not require any registration or KYC. It is only investors who wish to avail of Ramp's onboarding process that must provide their identity information to Ramp.
CoinSwap is built on the idea of making DeFi accessible to everybody. Integration with Ramp removes a stumbling block and simplifies the process for even the most inexperienced investors. As DeFi becomes mainstream it is vital that the protocols are aimed towards the mainstream. The integration with Ramp positions CoinSwap Space to cater to a wave of new DeFi users that will enter into the space as crypto moves towards mass adoption.