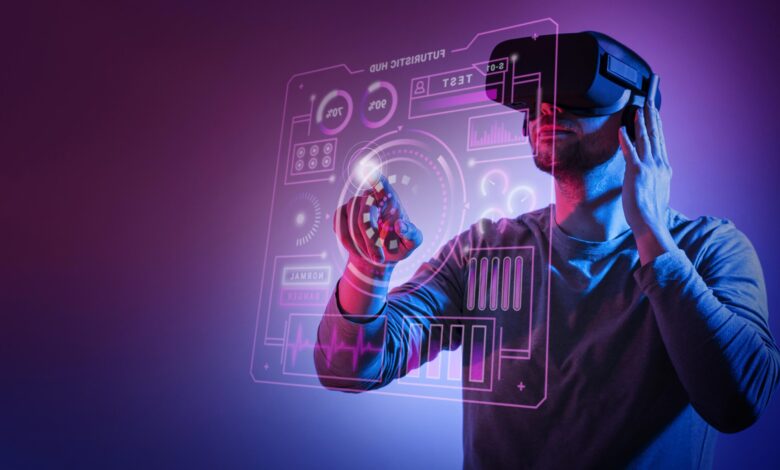 The industrial metaverse, still in its infancy, presents unique challenges for industry leaders. In order to enhance industry comprehension, the World Economic Forum and the CyberHuman Lab at the University of Cambridge collaborated with prominent industry partners and organizations to elucidate the intricate workings of the industrial metaverse, encompassing its technology, use cases, and market.
The World Economic Forum report offers a comprehensive roadmap for navigating the complexities of the industrial metaverse. Assessing its current landscape, the report highlights its varying degrees of adoption across industries. Delving into the challenges faced by companies, it discusses the limitations of initial proofs-of-concept and the barriers hindering the integration of advanced use cases.
The Industrial Metaverse: Bridging Real and Virtual Worlds
The term "industrial metaverse" commonly refers to a collection of metaverse applications tailored for industrial users. As a progression from digital twinning, this metaverse goes beyond merely replicating machinery or manufacturing plants digitally. Instead, it can be described as a persistent 3D platform that spans across an organization, its value chain, and the entire product life cycle. It serves as a digital representation of the organization within its operational environment. Operating in a complementary manner, it integrates processes, materials, machines, and people, facilitating a two-way flow between the physical and virtual worlds. It is built on foundational technologies such as extended reality (XR), robotics, sensors, and actuators as part of the Internet of Things (IoT), artificial intelligence (AI), blockchain development tools, computing, and connectivity.
Industrial Metaverse: Current Landscape and Challenges
Across industries, the adoption of the industrial metaverse varies, with leading companies in automotive, aerospace, energy, and pharmaceutical sectors taking the lead. While facing different levels of advancement, they encounter similar challenges in implementation.
Many are experimenting with VR safety training and MR showrooms, yet struggle with integration and data interpretation due to infrastructure limitations and incompatible formats. While 3D content creation shows promise, the high costs remain a concern. Additionally, the rapid innovation pace leaves companies without a clear vision, strategy, or governance for the industrial metaverse concept.
Mapping the Industrial Metaverse: Dimensions and Applications
Drawing on a collective understanding of the industrial metaverse and its potential, the goal is to outline an implementation strategy. Typically used to simplify complex systems, the roadmapping technique is employed through four key dimensions:
Market drivers: Considering economic, social, environmental, political, and legal factors crucial for responsible and inclusive metaverse growth across international borders.
Underlying technologies: Comprising hardware infrastructure, software infrastructure, and interaction layers, including connectivity, computing, AI, blockchain, robotics, IoT, and XR devices.
Required resources: Encompassing financial, organizational, and human assets crucial for successful industrial metaverse integration, spanning safety, privacy, security, organizational structures, governance, culture, and workforce.
Potential use cases: Identifying industrial metaverse applications throughout the product life cycle, including pre-production, production, and post-production, supporting functions such as training, operational planning, business intelligence, quality control, marketing, customer support, and product recycling.
This comprehensive approach aims to demonstrate the tangible impact and value this metaverse can bring to companies, emphasizing its significance in shaping the future of industry within the metaverse.
The Roadmap for the Future: Trends and Projections
The roadmap for the future of the industrial metaverse outlines potential developments in the short, mid, and long terms across various dimensions.
While the economic value of the this metaverse remains uncertain, increasing recognition in the mid-term could drive investments. Companies and platform providers are collaborating towards an interoperable metaverse platform, balancing social concerns regarding workforce upskilling and environmental considerations related to energy and resources.
Industrial companies are experimenting with XR devices, with a focus on potential value addition compared to existing 2D screens. Robotics, sensors, and AI are expected to play a significant role, enhancing automation and control. Improved network infrastructure, open standards, and interoperability are crucial for smooth implementation.
Organizational adaptations and a supportive culture are essential for successful integration. Managers need to develop a comprehensive industrial metaverse vision and strategy, while ongoing learning for employees is critical for technical expertise.
Initial use cases are limited by integration challenges, lack of real-time capabilities, and insufficient content. Future use cases are expected to prioritize collaboration, real-time manipulation, and 3D output. AI integration could enhance decision-making across various functions, including training, monitoring, operations, business intelligence, and customer support.