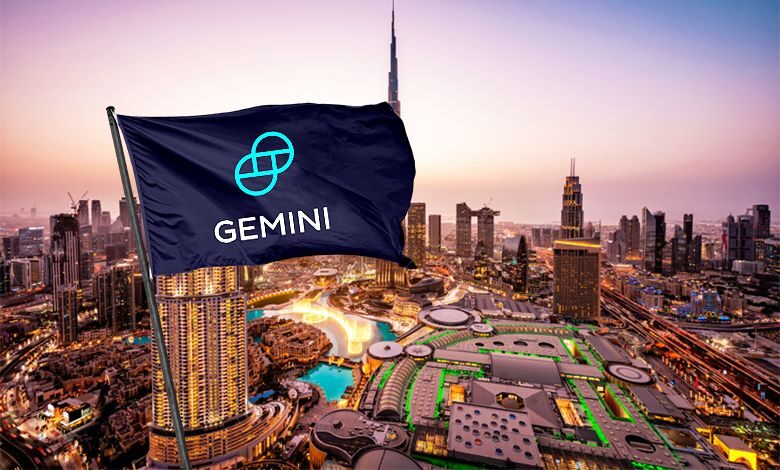 Gemini, the cryptocurrency exchange owned by the Winklevoss brothers, has revealed its intention to obtain a crypto service license to cater to customers in the United Arab Emirates (UAE).
The decision comes as a result of growing interest in cryptocurrencies among UAE citizens and productive dialogues with local regulators.
Cameron and Tyler Winklevoss, co-CEOs of Gemini, shared that their motivation for this expansion stemmed from encountering regulatory uncertainties and an unfriendly environment for crypto in the United States.
Gemini CEO Tyler Winklevoss expressed optimism about their discussions with regulators in the UAE, stating, "We've had extremely positive engagements with regulators here."
He emphasized the UAE's aspiration to become a crypto hub and enact balanced regulations that prioritize consumer protection while fostering innovation.
While the exact location for Gemini's operations in the country remains undecided, the Winklevoss twins hinted at the possibility of establishing the exchange's headquarters in both Abu Dhabi and Dubai.
It is worth noting that Gemini's Global State of Crypto Report reveals that over 35% of respondents in the UAE have invested in cryptocurrencies, surpassing the figure of 20% among respondents in the United States.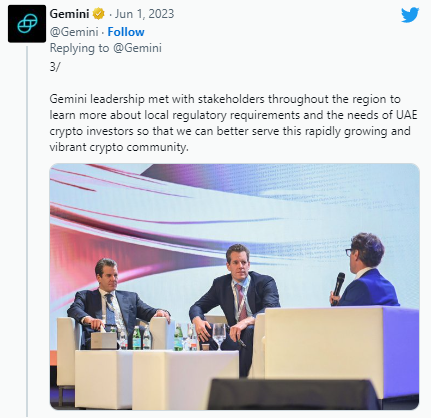 The report also highlights that nearly 32% of non-crypto owners in the UAE are inclined to make crypto purchases within the next year.
Moreover, a significant 33% of crypto holders in the UAE intend to utilize their digital assets for in-person transactions at physical stores, whereas the global average stands at 19%.
The United Arab Emirates has emerged as a leading destination for cryptocurrency companies, attracting industry giants like Gemini and many others.
With its progressive and crypto-friendly regulations, the UAE has fostered an environment that encourages innovation, investment, and adoption of digital assets.
The country's commitment to thoughtful regulation and consumer protection, coupled with its efforts to establish itself as a global hub for crypto, have undoubtedly contributed to its growing appeal.
As more companies set their sights on the UAE, it is clear that the nation's forward-thinking approach to cryptocurrencies has positioned it at the forefront of the digital revolution, solidifying its reputation as a haven for blockchain-based ventures and paving the way for a promising future in the world of crypto.