Balaji Srinivasan, the ex-CTO of Coinbase, has closed a $1 million Bitcoin price bet at 97% below its target price, and instead, he has decided to donate a total of $1.5 million to three entities as a settlement.
The bet was closed on May 2, 45 days prior to its agreed-upon end date, through mutual agreement.
As part of the settlement, Srinivasan gave $500,000 to a pseudonymous Twitter user named James Medlock, who refers to himself as a "hyperinflation doubter," donated $500,000 to Bitcoin Core developers, and provided an additional $500,000 to Give Directly, a non-profit charity.
According to Balaji Srinivasan's tweet, he settled the Bitcoin price bet ahead of time and donated more than the amount he committed.
He clarified that he did not want to publicly burn a million dollars and explained that the reason for closing the bet at around $970,000 less than his target price of $1 million per Bitcoin was to signal that something is wrong with the economy.
He believes that citizens can no longer rely on the public sector to warn them about the economy's state. Despite donating $1.5 million, Srinivasan remains convinced that the American economy will face hyperinflation in the future, leading investors to seek Bitcoin's value.
This demand will rapidly increase the asset's price, eventually reaching the $1 million mark.
In March, Balaji Srinivasan and James Medlock got into a dispute on Twitter, and it resulted in a high-stakes bet.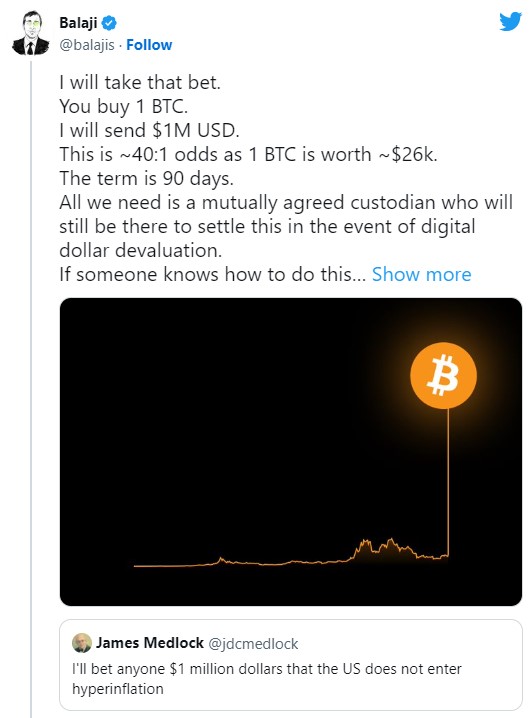 Medlock said he would wager $1 million that the U.S. dollar would not enter a state of hyperinflation.
The conditions of the bet stated that if Bitcoin didn't reach a value of $1 million by June 17, Medlock would receive $1 million in USD Coin and 1 BTC.
If the price of Bitcoin did reach $1 million by that date, then Balaji could keep the 1 BTC and the $1 million in USDC.
Bitcoin's current price is just above $28,700, with a market cap of $556 billion, according to Cointelegraph data.